Honey processing line | Honey Homogenizer
Honey production line with many different options, designed for manufacturing of honey, in bigger or smaller volume, and it does not matter what the quality of the original material is.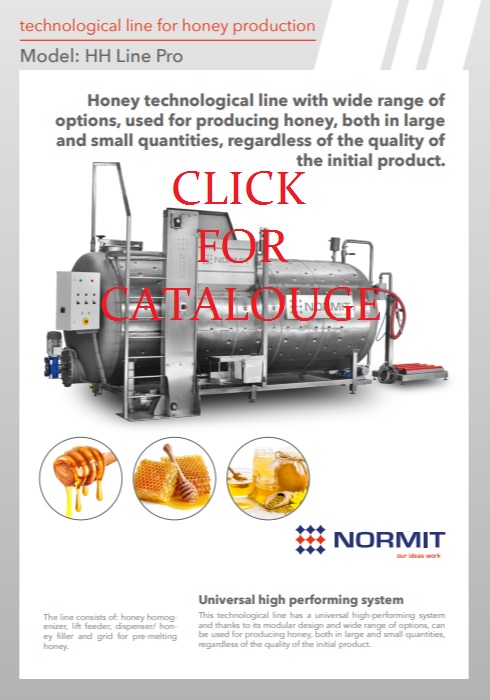 Universal powerful line for the production of honey
This production line for honey production has a universal powerful mechanism and due to its modular construction and many different options, may be applied in manufacturing of honey, in big or smaller amounts, no matter the quality of the original honey. 
The line comprises of:
Homogenizing unit is constructed for accurate mixing and homogenizing of various kinds of honey, that enhances its  features. Honey homogenizing machine comprises of an horizontal barrel shaped tank, steam or water heating jacket plus a screw agitator. The jacket is situated through the whole cylindrical section.
Lift feeding system, Dispensing equipment

Lift feeding mechanism for discharging honey from tanks in the homogenizing unit. The system is fitted with a hydraulic or pneumatic lifting system. It is constructed from stainless steel. One load time can be up to 90 s.
Dispensing - filling tool 

Dosing works on the tensometric system. Tensometric platform gets installed in the client's factory, in the concrete floor. On this platform, a pallet with a cylindrical container or bare barrel is stocked. Filling of honey is achieved by means of a self-priming pump. When the required amount is achieved, the machine switches off.
The grid can be as an option added to the homogenizing machine cover for pre-melting of solid honey. Heating is achieved with water recirculation. Pre-melting may substantially decrease time of melting or the homogenizing time.
 For a free consultation or any enquiry about our beekeeping equipment, send us an email to This email address is being protected from spambots. You need JavaScript enabled to view it.