Y - Mixer | Y - Blender NORMIT
mixer / blender
Model: Y- mixer
 Y - Mixer | Y - Blender are widely used to produce homogenous mixtures out of bulk components. Blending is carried out through the force of gravity, as there is no moving part. This makes it possible to blend granular and brittle products without damaging them, as well as making it possible to blend abrasive products with minimal wear on parts.
Y-mixer is a double container having a top angle of 90 °. The mixing system is intended for solid products, it is divided into two parts.
This type is intended for thorough mixing, while maintaining the open structure of the enclosed product with a relatively low energy and short mixing time.
Blending minimizes the negative effect of centrifugal force.
Thanks to the design of the mixer, there is a possibility to work with several different materials, in three equal volumes.
Infinitely variable rotational speed of the stirrer by frequency converter enables optimal and efficient way of mixing.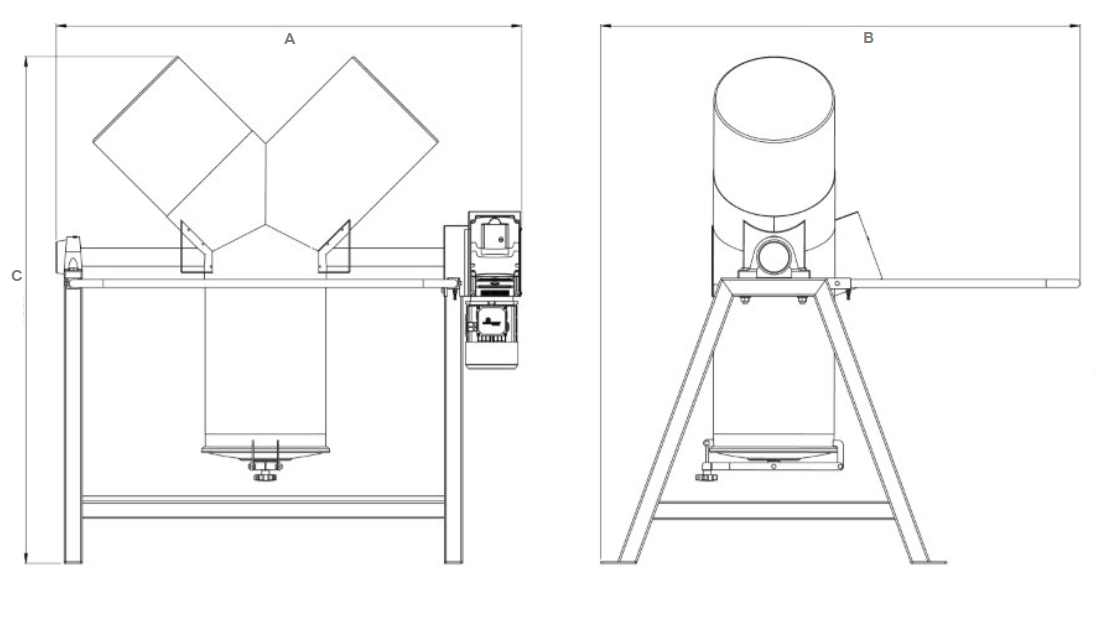 Dimensions:
A: lenghth, mm  1 540
B: width, mm      1 590
C: height, mm    1 680
Usage:
Food and Beverage – sugar, spice, dextrin, chocolate mixes
Pharmaceuticals – supplements, silica, sugar, tablet coating
Chemicals – adhesives, agricultural supplements, plastic powders, cement mixes, glass ingredients, insulation materials
Cosmetics and Daily Care – baby powder, tooth paste, cosmetic creams, detergents, cleaning compounds
Benefits:
-  Parts are mixed thoroughly.
-  Mixing minimizes the negative impact of the centrifugal force.
- Continuous regulation of speed of rotation of the mixing device by frequency converter enables optimal and efficient  mixing.
-  Shorter mixing time compared with conventional mixers.
-  Easy to use and control.