IBC Mobile container
NORMIT Company Ltd. develops and manufactures various equipment for the food, cosmetic, pharmaceutical, chemical and other industries. We are the leader on the Slovak market in the production of equipment for the food industry. We place high demands on product quality and we pay special attention to the introduction of innovative technologies.
Pharmaceutical Bins NORMIT BPS series belong to the most popular mobile containers used in the manufacture of solid dosage forms. In one container may be carried out in several operations. This reduces the frequency of loading and unloading of the container and thus the risk of contamination of the product and the risk of dust. The device meets the requirements of GMP.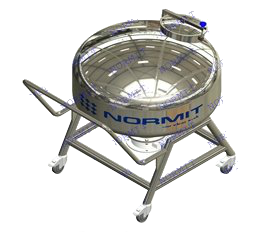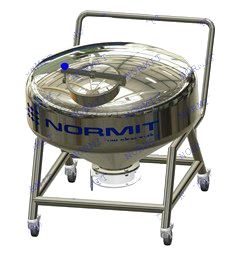 All corners are rounded, and there are no "dead zones". The inner and outer surface is polished. Special sealing made of silicone with the addition of latex ensures a perfect seal.
Special custom-made safety valve with rounded corners, which ensures that are not remain part of the product inside the container. The valve is easily detachable and can be easily cleaned. The flap inside the valve allows dosing of product with certain doses.
Basic equipment:

vessel with conical bottom



manhole

feet with floor plates

drain valve

Due to quality stainless construction, our containers are extremely tough and durable. They are highly flexible and resistant to corrosion.
TECHNICAL PARAMETERS

| | | | | | | |
| --- | --- | --- | --- | --- | --- | --- |
| MODEL | Volume l | Height | ⌀Vessel diameter mm | ⌀Manhole mm | AISI304 | AISI 316 |
| BPS100 | 100 | 990 | 800 | 400 |   |   |
| BPS300 | 300 | 1120 | 800 | 400 |   |   |
| BPS400 | 400 | 1280 | 800 | 400 |   |   |
| BPS600 | 600 | 1360 | 1000 | 400 |   |   |
| BPS800 | 800 | 1530 | 1000 | 500 |   |   |
| BPS1000 | 1000 | 1600 | 1200 | 500 |   |   |
| BPS1200 | 1200 | 1730 | 1200 | 500 |   |   |
| BPS1500 | 1500 | 1860 | 1200 | 500 |   |   |
| BPS2000 | 2000 | 2250 | 1200 | 500 |   |   |