Rotary Blancher Normit BD
Model: Normit BD
600/1400, 1200/4000
The rotating blanching machine BD series was constructed for blanching different kinds of food, vegetables or fruit, with no destruction to its form.
The commercial blanching machine - how it works:
The rotating blanching machine was designed for blanching of vegetable, fruit, legumes, pasta, prior to conserving or freezing. The blanching method is an alternate approach to cooking and occasionally it is the only method of processing of heat sensitive materials.
Quick treatment by steam or hot water ensures cleaning from bacteria or molds, becoming safe for the customer.
What is blanching machine applied for:
Softening treatment - blanched product needs less time for final processing.
Enzymes deactivating - blanching decreases and breaks enzyme functions that may destroy the material colour, flavor or aroma. Some materials gain slight coloring while blanching. 
Limited air elimination from product helps increasing endurance following conserving and freezing plus minimizing the product capacity.
Limited water elimination aids with the additional product freezing at production lines.
Vegetable blanching machine - Benefits
Versatile machine. Equipment may be applied for steam or water blanching. The blanching period processes differ depending on the changing of a drum tilting angle and its rotating speed that allows to change the blanching time.
The blancher may be applied to defrost fresh ingredients.
Reliable - the rotating blanching machine was designed for intense longlasting processing. The equipment is manufactured in our factory in EU using highest quality european parts. 
Spiral structure decreases chances of shaft destruction. 
Simple care and entry to inside parts.
Less vibrating plus less noise.
Available extra division for initial defrosting of raw ingredients.
The rotating drum blanching machine NORMIT BD was designed for steam or water blanching of vegetable, fruit, or legumes in continuous cycle. 

Pasta blanching machine 
The blanching machine comprises of a horizontal, tubular, heat isolated room installed on the whole structure. The structure enables safety and support of the equipment, no matter the size. 

Universality

In the standard variant, the blanching machine allows to achieve the steam or water blanching, and it may process many different products.

Highest quality

Blanching is achieved by continuous product rotating and mixing inside an operating room which ensures the balance of heat treatment.
The period of blanching relies upon speed of a product motion in the operation room. It is amended by changing of drum tilting angle and its rotating speed. The accurate modification of settings allows to accomplish the accurate time modification of blanching to prevent overcooking.
The product is stably dosed into blanching chamber by dosing conveyor. The product is unloaded by a special unit without dead zones. For fast cooling after the blanching process, the product is dosed into a drum or conveyor cooling device. Depending on the type of product, the cooling process can be performed by ice water or air.
The blanching process help to save the vitamins and nutritional product features and it also saves an attractive external appearance with light natural coloration.
For more information about any of our blanching machine, or for a free consultation, send us an email to This email address is being protected from spambots. You need JavaScript enabled to view it.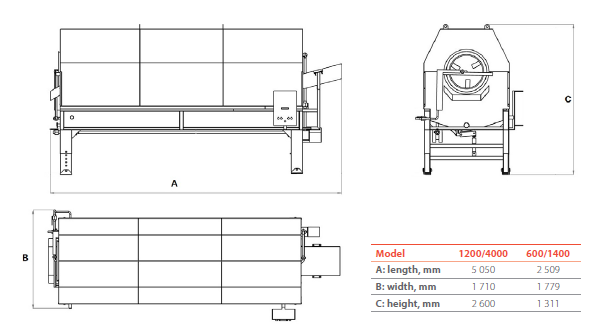 Application
Normit Continuous Rotary Blancher can be used to cook, temper or rehydrate many different products. These products range from vegetables, beans, meat, pasta & rice, etc. A secondary unit can be implemented for cooling the cooked product.
Versatility
In order to best fit all our customers' needs, Normit Company offers many different sizes of Blanchers. These sizes range in diameter and length. With these different offerings, Normit makes it possible to fit any need based on the customers' processing size and quantity. The implementation of a secondary cooling unit keeps the customer's energy costs down by separating each process eliminating any transfer of heat.
Ease of Use
Normit Company has always strived to make continuous cookers as maintenance free and easy to use as possible. Such innovations as the trunnion mounted obstruction free infeed and outfeed aid in this endeavor. The central cores have been eliminated where possible to keep maintenance to a minimum. Normit also offers many options to further aid the customer in increasing system performance and reducing maintenance.
Energy Efficiency
Normit Company offers many features in order to allow the customer to get the most efficient cook possible while eliminating any wasting of costly energy