Drum tumbler mixer/ drum stirrer
Tumbler mixer/stirrer is equipment used for mixing, granulating and emulsification of mixtures: food, drugs and chemicals, granules, sports supplements, infant formulas, teas, coffee, combined feed and animal feed.

Drum tumbler mixer/ stirrer is designed for thorough mixing with maintaining the structure of solids and granular substances without creating dead zones and relatively low consumption and short mixing time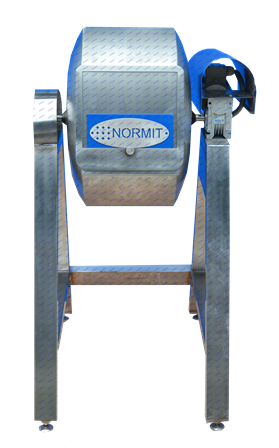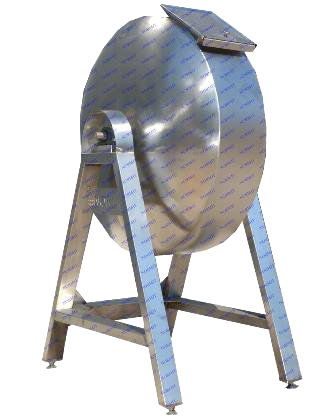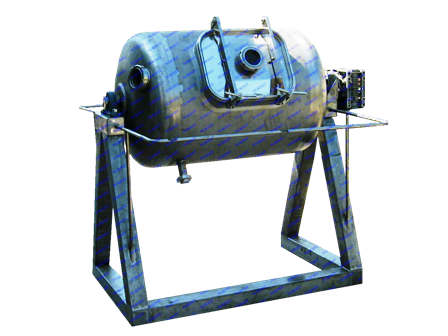 Drum tubular mixer/stirrer is used in the food industries (baby food, sports supplements, beverages, ...), chemical, cosmetic, pharmaceutical and construction industries.

 Uses
combined feed

formulas

food concentrates

and additives

Supplements

for athletes

tea

coffee drinks

food

for birds and animals

mixing of

pharmaceutical and chemical products



Processes:

mixing

granulating

emulsification
 Principle
The starting material is poured into the drum, where is carefully and gently stirred by the rotation of the drum. Stirring is performed on the basis that the product in the drum rotates, rise and fall at certain angle around its periphery. The mixture is discharged through the same openings, but the door is in the down position.

A shaft which rotates the drum may coincide with the axis of symmetry, or diagonal, and the drum, can vary according to the purpose and nature of the product. There are also stirrers, which revolve on the rollers.

All parts are made of high quality stainless steel.
Variability of drum stirrer


Variants

for various industries

Any

degree of automation

Frequency inverter

for

speed control

Device for

dispensing

and weighing

product
 Benefits
Quality

mixture

in a very short

time

Minimum

energy consumption

Flexibility

of stirring

Intensive

continuos stirring

H

omogeneous mixture

Maintain the

properties of the product

E

asy to install

Quick

and

easy cleaning

due to

the opening

drum

Stainless

Suitable for sensitive products


Without generating

frictional

heat

Ability to add

dosing system

(

injection

aromatics

)
Programming

Low noise


Tightness of

the mixing chamber

Ability to

add

liquid products

while stirring

Process for all

types of products

 

Control

 

Manual control

is

designed for

simpler

machines and

technological equipment

,

which

the technological process

is

complex and

therefore

do not require

complicated programming

. It is a s

imple operation

using the ON

/

OFF button

.





Technical parameters


| | | | | | | |
| --- | --- | --- | --- | --- | --- | --- |
| Model | NormitDrum Mixer-50 | NormitDrum Mixer-100 | NormitDrum Mixer-150 | NormitDrum Mixer-200 | NormitDrum Mixer-250 | NormitDrum Mixer-300 |
| Volume |  50 |  100 | 150 | 200 |  250 | 300 |
|  Working volume |  30 | 60 |  90 | 120 |  150 |  180 |
|  Motor power |  0,5 | 0,75 | 1,1 | 1,5 | 2,2 | 2,2 |

Model                    

NormitDrum

Mixer-1000     


 

NormitDrum

Mixer-1500                         


 

NormitDrum

Mixer-2000  


 


 

NormitDrum

Mixer-4000                  


NormitDrum

Mixer-5000      


 

NormitDrum Mixer 10000 a viac


Volume 
 1000
1500
2000
4000
5000
 10000

Working

volume

 600
 900
 1200
 2400
 3000
 6000

Motor

power

 3
3
5,5
 5,5
10
55




| | | | |
| --- | --- | --- | --- |
| Sizes mm | A | B | C |
| Normit Drum Mixer 50 | 1120 | 700 | 820 |
| Normit Drum Mixer100 | 1280 | 730 | 850 |
| Normit Drum Mixer 150 | 1360 | 820 | 910 |
| Normit Drum Mixer 200 | 1400 | 850 | 930 |
| Normit Drum Mixer 250 | 1550 | 880 | 970 |
| Normit Drum Mixer 300 | 1580 | 900 | 1000 |
| Normit Drum Mixer 1000 | 1980 | 1000 | 1220 |
| Normit Drum Mixer 1500 | 2000 | 1150 | 1300 |
| Normit Drum Mixer 2000 | 2250 | 1200 | 1460 |
| Normit Drum Mixer 4000 | 3150 | 1400 | 1700 |
| Normit Drum Mixer 5000 | 3750 | 1500 | 1780 |
| Normit Drum Mixer 10000 | 5230 | 2000 | 2500 |