OINTMENT AND CREAMS PRODUCTION LINE
ZARIADENIA NA VÝROBU KRÉMOV MASTÍ
LINIA PROCESOWA DO PRODUKCJI KOSMETYKÓW W SKALI PRZEMYSŁOWEJ
 Линия производства бальзамов, кремов, средств для ухода за кожей
Catalogue
Line for production

of ointments and creams

 

Line for the production

of cosmetic

and pharmaceutical products
Line is used for the preparation of sterile ointments, creams in the cosmetics, pharmaceutical, chemical industry and other industries.
Capacity 50kg·100kg·200kg·300kg·500kg
Fully automatic cream/ointment plant, untouched by human hands consist from:
Wax melting vessel
Water heating vessel
Manufacturing vessel
Storage vessel
Transfer pumps
nteconnecting Pipeline
Working platform
VACUUM MIXER
Designed for the mixed creams, pastes, wax, wet and powder mixtures. Vacuum mixer operates rotor-stator system. Between the rotor and the stator there is a vacuum that sucks the mixture of the product from top to bottom. Application of the forces in different directions are mixed, the addition of components to produce a stable product for a short time
Benefits of  products:
Easy assembly / - easy maintenance
Hydraulic lifting the lid
High product quality and durability
Conserving energy, materials and processes
Flexibility with interchangeable tools
Flexible Efficient mixing and homogenization
The principle of the rotor / stator
Simple speed adjustment
Produced according to GMP standards
High hygiene
INLINE HOMOGENIZER

Inline homogenizer operates on the principle of rotor / stator. It is designed for mixing and homogenization. This model is suitable for the production of emulsions and suspensions in a wide range of viscosity. The processing of emulsions, the machine achieves droplet size to 1 micron, for solids (powders) there is a thorough dispersion of particles. The product is supplied to the pump by means of a homogenizer. The product is subject to the initial stage of mixing, and then passed through a homogenizer. Excellent product quality is guaranteed thanks to high shear forces acting on the product. The main application of this model is to enter into a functional system, but can also be mounted under vacuum in a horizontal or vertical position. Knives are easily removed and replaced by other, thanks to a homogenizer very versatile and flexible. The distance between the blades and the wall is designed to be easy to clean.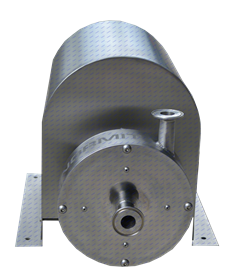 FILLING MACHINE
The speed and performance of the dose can be adjusted. Filling accuracy is very high. It is made of stainless steel, so that we achieve the highest quality and hygiene. On the basis of the potentiometer is reduced to the loss of 0.5%.  
 Product Benefits
Automatic / semi-automatic model
Suitable for filling into aluminum containers, plastic laminate
Capacity from 60 to 180 tubes per / min.
Easy replacement heads
Even for oval tubes
GMP documentation
Performance range: 25 to 60 ml, 50-125 ml, 100-250 ml, 200-500 ml

Option
Production of cosmetic creams, gels, ointments, emulsions, and other cosmetic and pharmaceutical homogeneous products, which do not require heating during manufacturing. For the pharmaceutical industry

Homogenizers YUMIX 3, 5.5, 7
Technical parameters

| | | | | |
| --- | --- | --- | --- | --- |
| Model | UPS-100 | UPS-300 | UPS-500 | UPS-1000 |
| Volume | 100 | 300 | 500 | 1000 |
| Power kW | 0,55 - 1,1 | 0,75-1,5 | 1,5-1,7 | 2,2-3,7 |
|   | 12 | 15 | 30 | 45 |
МPU 100 - 1200

It is used in the manufacture of cosmetic creams, gels, ointments, emulsions, and other cosmetic and pharmaceutical homogeneous products, which are heated and cooled during production. For the pharmaceutical industry.
| | | | | |
| --- | --- | --- | --- | --- |
| Model | МPU-100 | МPU-300 | МPU-600 | МPU-1200 |
| Volume, l | 100 | 300 | 600 | 1200 |
| Power, kW | 0,55 - 1,1 | 0,75 - 1,5 | 1,5 - 2,7 | 4 - 7 |
| Power- heating, kW | 15 | 30 | 45 | 45 |