Cook chill equipment - NORMIT
Cooking boiler/Blancher with drain and cooling system Cook'n'chill
Cook chill equipment - NORMIT designed for high-performance cooking/blanching of a wide range of products with following rapid cooling. 
Examples of use Cook chill equipment - NORMIT :
macaroni (spagetti and pasta)

rice

legumes

seafood

pieces of vegetables, fruits, mushrooms

pieces of meat and fish
Cook chill system - Construction and principle of operation

Cook chill equipment - NORMIT has a modular design. The first section consists of a working vessel with shell heating (steam, electric or gas), a tilting net basket, a hydrodynamic mixing system, a recirculation, and water filtration system.
The second cooling section consists of a working vessel with cooling in a shell, it is also equipped with a hydrodynamic stirrer for maximum access of cold from ice water to the product, a product discharge basket, a water filtration, and a recirculation system.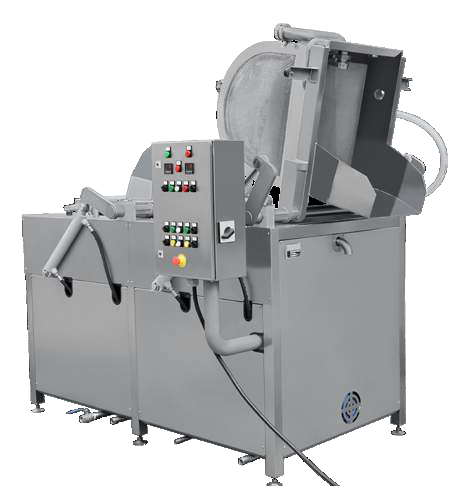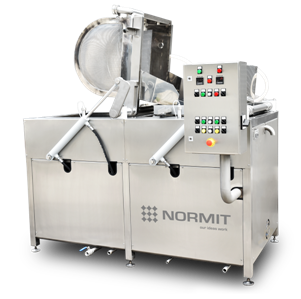 The innovative hydrodynamic stirrer used in the cook and chill system ensures maximum heat exchange between the product and the heat transfer medium, resulting in shorter cooking time and even better product processing from all sides, thereby preventing it from sticking and damaging.
The product is placed in a water heater at the desired temperature. The optimum ratio of the product and volume of water varies with the product and is determined empirically. After the cooking process is complete, the operator presses the button to lift the net basket, which is equipped with a pneumatic, hydraulic or electromechanical drive (depending on the volume of the working vessel and the customer's needs). When the basket is lifted, the remaining water goes back into the working vessel. For more intensive water separation, the basket extraction function is available. When the basket is tilted, the product is unloaded into the cooling container.


In the second section, the product is subjected to intense cooling in a short time, and then, by means of a similar emptying system, is discharged into the receiving container and continued for further processing.
The entire volume of water in the system passes through continuous water filtration; small pieces of the product are captured on filter stainless mesh, which do not impair the properties of the used water and the quality of the finished product.
Cook chill method - Benefits
Simple cooking/blanching and unloading of the product

Guarantee of the highest quality and even product processing

Continuous water filtration

Intensive circulation of water between the heat exchanger or spirals helps to maximize heat transfer between water and the product, which reduces the product processing time.
Water saving - thanks to constant water cleaning, it remains clear for longer. It is possible to completely eliminate the exchange of water in the system, and just add the fresh water.  
Simple and reliable construction in accordance with FDA standards

CIP cleaning

Made in the EU, using European materials and components

Simple use and maintenance

Simple control by PLC.
For more information about this product, contact our sales department: This email address is being protected from spambots. You need JavaScript enabled to view it.
| | | | |
| --- | --- | --- | --- |
| Type | B 250/175 | B 750/375 | B 1000/700 |
| Dimensions, LxWxH, mm | 2240x1650x1650 | 3200x1700x2400 | 3180x1860x1080 |