Honey creamer CH Profi NORMIT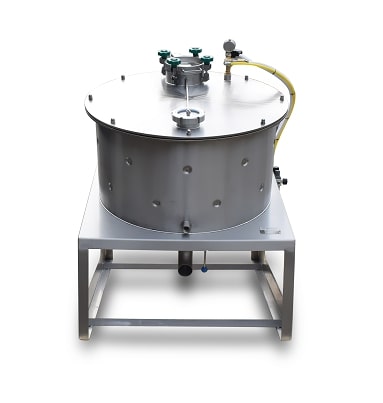 In order to get a fast, high-quality cream-honey, a high-quality equipment is needed. 
Honey creamer CH Profi NORMIT is a versatile, efficient system, thanks to the modular design and wide range of options. It may be used for the production of cream honey, both large and small volumes, and also for any feedstock and with various additives. When choosing a vacuum model, the entire production process is carried out in a vacuum environment, which allows for the safe processing temperature of honey.
Honey creamer CH Profi NORMIT allows us to get a ready batch of creamed-honey 20 times faster than conventional systems. This unit operates on a capacitive technology of honey creaming - "controlled crystallization".
Vacuum Honey creamer Profi model effectively removes air inclusions from the product, thereby minimizing the foaming and greatly increases the shelf life of the finished product.
Honey creamer CH Profi NORMIT has an automatic control system that allows you to program the desired honey processing mode. The crystals produced are very small - it is difficult to visually distinguish them, the honey becomes like melted butter.
Technical characteristics:
• Vacuum generation system included
• Electric heating
• The cooling chiller
• Automatic control system
| | | | | | | |
| --- | --- | --- | --- | --- | --- | --- |
| Model | CH Profi 670  | CH 800 | CH profi 800  | CH profi 1300  | CH profi 2700  | CH Profi 3000  |
| Dimensions, LxWxH, mm |  1500x1290x2100 |  (1514x1428x2707)+_100 |  (1376x1222x2013)+_100 |  1224x1504x3880 |  2350x1675x2590 | 1900x2000x3400 |
Advantages
- Do not need additional facilities, everything you need is already built into the machine.
- Installation is very compact and allows you to pre-dissolve the honey.
- Possible to produce a creamed-honey even with the addition of various components such as berries, nuts, dry juice and others.
- Stable crystallized structure of the finished product.
- Product keeps its form for a long period of time.
- The equipment is manufactured in our factory in Slovakia, all components manufactured in Europe. 
Our company can perform tests in our laboratory in Slovakia. 
For more information about this product, please contact our sales department at This email address is being protected from spambots. You need JavaScript enabled to view it.
For information in Russian language please follow the link кремовалка