Continuous fryer SnackPro | Deep fat fryer | Industrial continuous fryer
Continuous industrial fryers of the NORMIT SnackPro series are specially developed for frying small, loose products that have (or are getting in the frying process) less dense than oil and float on its surface.
  
Deep fat fryer - Examples of use 
Potato chips
Products from the flour
Some types of doughnuts
Snacks
Meat balls
Frying process
The product is fritted in a way full of immersion in hot oil. The SnackPro series of fryers do not have a conveyor belt for sliding the product. The product is shifted due to the movement of the oil pumped by the pump as well as by means of blades which not only move the product to the loading zone but also gently mix for even heat treatment. The product is unloaded using a conveyor. The length of time the product is immersed in the frypot
(frying time) is determined by the speed of the conveyor movement.
Chips making machine - Construction features
Continuous fryers of the NORMIT SnackPro series are made exclusively from AISI304 food grade stainless steel (AISI316L on request) and their surface is completely insulated and sanded.
The design of the frypot is variable, and is not firmly attached to the frame, which makes it possible to compensate for the heat dissipationof SnackPro.
An innovative solution for vapor and smoke removal through two fixed outlets at the start and end of the working section, allowing for stationary ventilation. Enhanced security hinges are easy to open, overlapping each other for visual control over the process.
Moving milling blades are completely made of stainless steel and have a special design and profile, minimizing the buckling of the product. Each impeller has a reliable drive, the conveyor is self-propelled. Each row of blades can be individually and easily removed.
The SnackPro series of fryers are equipped with safety feet that can be adjusted in height.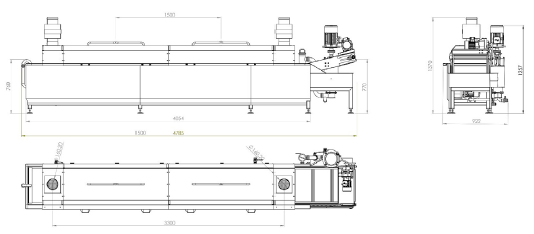 Fryer - Security
Continuous NORMIT fryers are equipped with several degrees of overheating protection. Continuous intensive oil circulation eliminates the possibility of local overheating and ensures that the set temperature is maintained throughout the oil volume in the system. Effective continuous oil circulation is performed using a special submersible pump for high temperature liquids. Seals are missing in the pump design, ensuring the highest degree of reliability and wear resistance. Another characteristic feature of the pump used is that it can run dry (in case of a temporary oil shortage in the system).
Fryer Machine made in EU - Benefits
High productivity of SnackPro
Accuracy of temperature maintenance - the product is evenly fried, the oil does not roast due to local overheating.
Simple operation and maintenance.
Double oil filtration system, which leads to a considerable increase in the serviceability of the oil and the increase in the quality of the fritted products.
Reliability and security
Minimum oil consumption in its class
Completely produced in the European Union
For more information please contact our sales department: This email address is being protected from spambots. You need JavaScript enabled to view it.