Homogenizer for honey
Homogenizátor - horizontal
NORMIT Company Ltd. develops and manufactures various equipment for the food, cosmetic, pharmaceutical, chemical and other industries. We are the leader on the Slovak market in the production of equipment for the food industry. We place high demands on product quality and we pay special attention to the introduction of innovative technologies. 
Catalogue
Homogenizer - Normit homogenizer for honey is designed for thorough mixing, blending and homogenization of different types of honey which improves its custom properties, and receive certification for the entire batch of honey. 
Homogenizer
consists of atmospheric horizontal cylindrical vessel with a jacket for heating the steam / water up to 5 bar -with screw stirrer. The heating mantle is formed of pilow-plate  which allows to use the high pressure (up to 5 bar, including tap water) to increase thermal conductivity and eliminate the risk of local overheating. The heating mantle is placed around the cylindrical part of homogeniser. At the top of homogenizer is positioned manhole, which can be used for loading of the product, and also for machine maintenance. Homogenizer is made of quality stainless steel AISI 304 suitable for food industry.

A lift/feeder for loading  of honey from containers into the homogenizer

The lift is

equipped

with hydraulic or pneumatic

lifting mechanism

.

is made of

quality

stainless steel

AISI

304 suitable for food industry.

two containers with capacity 23 L

One

time

loading

up to 90

seconds
Grid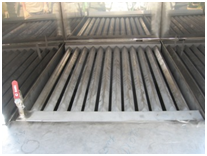 for "preliminary" melting honey
 Can be optionally installed on the lid of homogenizer for prior melting of the honey, which is  solid.  Preliminary melting can significantly reduce the melting and homogenization process of honey.
Dispenser / Filling machine into the large pack NORMIT DF

Dosage is based on Strain gauge principle. Strain platform is installed (works on customer side) in the concrete floor at the same level as the floor. Pallets with barrel or empty barrels are placed  on the platform, the dosing of the honey is carried out using self-priming pump. After reaching the desired volume is muted. Where it is not possible to install the platform on the concrete floor, the system may be provided with the roller conveyor.

Benefits of cooperation with NORMIT
Our company appreciates the time and effort of each customer, therefore, make every effort in order for you to create a unique product that will meet your expectations and needs.  In the company NORMIT you can find out a reliable partner that you can entrust your new project - whether it's a single device or a whole production line