Hose pump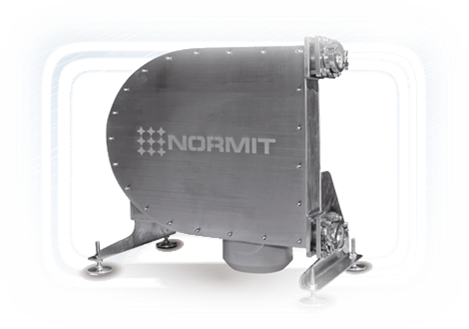 Hose pump
Hadicové čerpadlo
Hose pumps NORMIT PP are used in various industries: water treatment, mining, food, chemical, pharmaceutical and polygraphics industry
Hose pumps NORMIT PP handle abrasive, highly aggressive, viscous, sensitive materials and substances with high density. Innovative technology that eliminates the need for the presence of cooling and lubricating fluid inside the pump,  the process is faster and more economical
Uses:
• aggressive transported materials (acids, alkalis, galvanic baths, waste water )
• abrasive materials (glazes, enamels, porcelain, ceramic Slik, sludge, lime milk)
• viscous substances (syrups, pastes, pastes, adhesives, yeasts other dense material)
• sensitive materials (latex, fruits, sauces, yogurt, ready meals, etc.)
Hose pumps do not use the liquid coolant, that is not compatible with the application in the food industry, due to possible leakage. Pump is a versatile and efficient in all processes that require ease of use and accuracy in carrying out the transport of fluids, the great advantage is its self-priming ability up to 9 meters and also ability to work in a "dry" conditions, pump is completely reversible
Advantages:
•Long life
•Ability to transfer food, without the risk of contamination
•Easier and cheaper solution
•No coolant (prevents the contamination)
•The ability to draw products with solids in suspension, up to 45% of the inner diameter of the tube
•Priming up to 98% of vacuum
•The absence of valves and seals
•Option CIP design
•The reversible pump
How it works
The basic structure and principle of hose / peristaltic pumps is very simple and can be simplified compared to the act which is automatically done when you are trying to push something out by hands of the tubing or casing. Because of the pumping principle all fluid media which "pass through the hose" can be pumped irrespective of whether they are abrasiv, aggressive or containing solids. This effect creates the high vacuum in  the hose which causes suction and discharge of  the media. The liquid being pumped never comes into contact with any moving parts because it is totally contained within the re-enforced hose that means fluids never come into contact with moving valves, springs or seals. Hose Pumps are self-priming displacement pumps which are safe to run dry. Therefore, this principle is ideal for use in sterile (hygienic) environment. It is ideal for pumping fine chemicals and food.
Specification:
| | | | | | | |
| --- | --- | --- | --- | --- | --- | --- |
| N. | MAX flow rate | MAX flow rate | Motor speed | Voltage | Energy consumtion | Hose size |
| 1. | L/H | bar | r/min | V/Hz | W | мм (dxD-L) |
| 2. | 22 | 1 | 50 | 230V 50-60Hz | 40 | 8x12,8 |
| 3. | 100 | 1 | 150 | 230V 50-60Hz | 60 | 9,6x14,4 |
| 4. | 2 | 2 | 25 | 230V 50-60Hz | 4 | 4,8x9,6-160 |
| 5. | 10 | 1 | 108 | 230V 50-60Hz | 5 | 6x9-160 |
| 6. | 1,1 | 1 | 20 | 230V 50-60Hz | 3,5 | 4x7-110 |
| 7. | 3,3 | 1 | 60 | 230V 50-60Hz | 6 | 4x7-110 |
| 8. | 6,0 | 1 | 108 | 12V/24V DC | 4 | 4x7-110 |