Frozen meat flaker | Meat flaker machine
Models: FBF 200 / 300 / 400 / 600 / 800
This frozen blocks flaking machine was designed for flaking of frozen blocks of meat, fish or chicken, along with frozen blocks of juice, butter, margarine or other blocks arriving straight from cool storing with no earlier thawing. A mechanism to pneumatically provide blocks with strengthened guide rails on linear bearings are included.
Characteristics:
Reliable

Safe

Fast

Hygienic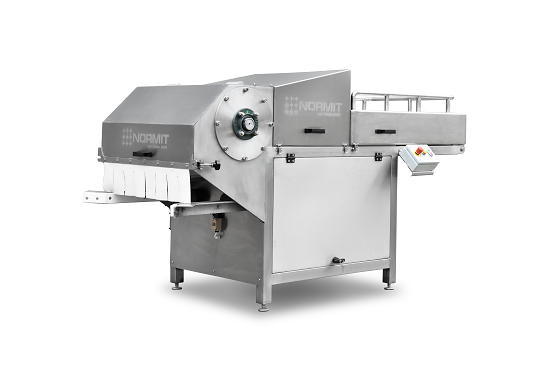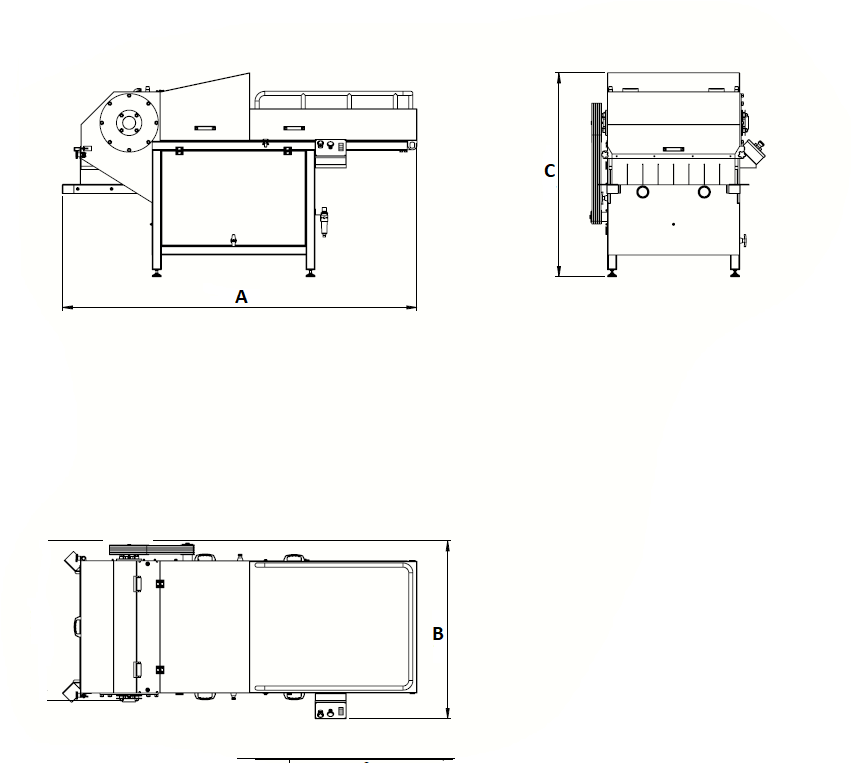 Model: FBF 600
Hygienic design
Side cover to keep from crumbs. The flaking of the material happens with no material losses. The place around the machine keeps completely clean, the flakes dont spread everywhere, going only into the collecting hopper. The machine is fitted with a mechanism for fixing the trolley in place, with side limiting mechanism and guarding blinds. The feeding mechanism of the machine is entirely self-sanitating.
Strengthened structure - using highest quality hardened steel blade ensures an effective lasting service life, along with minimal expenses for change or changing operating components.
Exceptionally quiet equipment
Vibrating structure guarantees softness and less noise while operating.
The product enters the machine with the aid of 2 guide rails and a main pneumatic roller. The feeding stand is equipped with teeth to fix the material. All pneumatic parts are covered, no pieces from the material can enter in these pneumatic parts. A mechanism to filter the compressed air in the pneumatic equipment is also included. 
Quickly lifting strengthened cover guarantees simple entry to all interior parts of the machine for maintenance.
The cutting size is amendable. According to the selected settings, a block may be cut into thinner pieces up to 2 mm, but also into thicker flakes up to 100 mm. The speed is also amendable.
Blocks slicing equipment with strengthened structure
FBF flaking machine is fitted with a solid stable foundation ensuring the strength of the whole structure offering the ability of installing it on a non-horizontal area (tilting angle up to 15 degrees) with the help of amendable base. All side parts are constructed from hard glossy stainless steel.
The rotor is fitted with blades constructed from highest quality thick stainless steel sharpened on two sides, substantially extending the service life and need for sharpening.
Safety
Opening any cover makes the rotor pause.

The material is fed by means of a pneumatic cylinder, removing possible risk to the staff.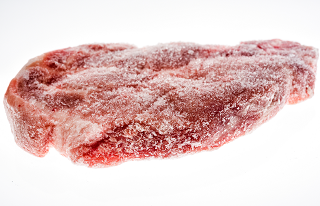 To obtain further details on our frozen block flakers, email us at This email address is being protected from spambots. You need JavaScript enabled to view it.