Vacuum mixer homogenizer VMG 300, 600 | Commercial mixer
Vacuum homogenizing mixing equipment represents an efficient and stable homogenizing manufacturing unit manufactured for processing various kinds of fluid, pasty or viscous material.
Perfect machinery for the manufacturing of different sauces, entirely homogenized or with particles. The homogenizer generates amazing emulsions or dispersions. With comparison to other similar homogenizers, the process of homogenizing and pumping are executed separate.
This method assures better homogenizing that can only be accomplished with a combined homogenizing mixing machine that has an improved pumping system. The essential degree of homogenization or grinding of the raw material is accomplished by moving the material through a dispersion tool placed in the equipment.
Processes performed in a vacuum homogenizer: 
Designed for:
Dairy products - yogurts, creams, condensed milk.
Fat - butter, mayo.
Sauces, pastes - jams, ketchup, purees.
Sweets - chocolate, hazelnut cream.
Cosmetics - cream, gel, shampoo, toothpaste, conditioner. 
Pharmaceutics - gel, ointment, emulsions. 
Chemical products - paints, adhesives, detergents.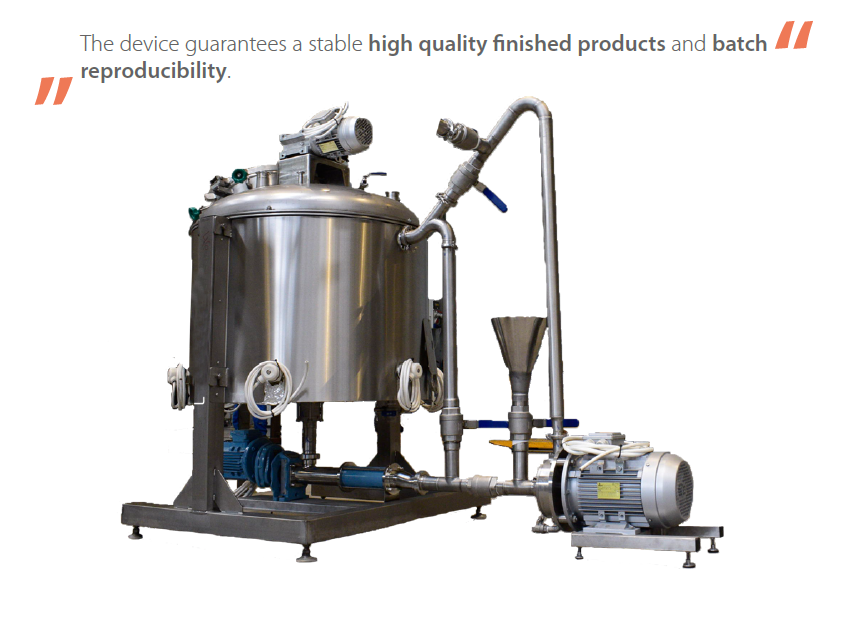 VACUUM HOMOGENIZER - CHARACTERISTICS:
Control panel - on the demand of a client, the machine can be fitted with either a manual, semi-automatic or automated control panel.
Modern and easy – only a small production area is required. Simple access for the manipulator or staff. 
Energy is saved by decreasing the manufacturing time. 
Excellent homogenizing. The high performance homogenizers integrated in the machine are the best on the market. They provide the highest level of homogenizing in the small time, with low energy usage. A homogenizing unit placed at the base of the operating tank, is operating on the rotor-stator mechanism. The homogenization of the material is achieved at the lower part while unloading is done at the top of the tank. The machine assures quick and effective homogenizing, emulsifying and dispersing. If your product is high density, we suggest adding a pump which improves effective mixing or homogenizing. 
Heating, chilling is done with a uniquely constructed heating or chilling jacket. Hot water or steam work as a heating mechanism.
Mixing process. A specially designed agitator of lower speed and Teflon scrapers guarantees an equal dispersion of the product. The shape of the stirrer imitates the conical bottom of the operating tank, meaning no dead zones occur. Stirring is executed delicately, without damage to the content in the tank.
The Teflon scrapers constantly wipe the walls of the tank for the effective heat exchange.
The construction of the stirrer assures effective stirring of even higher viscosity material. 
For further info about this vacuum homogenizer, or for a price quote, send us an email to This email address is being protected from spambots. You need JavaScript enabled to view it.