Laboratory vacuum homogenizer mixer VMG 20
Normit s.r.o. invented petite machines of small volume for the food or cosmetic sectors particularly for performing laboratory testing. Acknowleging our client's requirements to test the products prior to manufacturing. It is possible to purchase or rent this laboratory equipment or you can come to our laboratory place in Slovak Republic in EU and testing your raw material.  
LABORATORY VACUUM HOMOGENIZING MACHINE
The Vacuum Mixing machine is the perfect answer for the manufacturing of testing batches or commercial manufacturing of many different materials in smaller or medium capacity. Due to the great value or flexibility in the manufactured material. The machine is an optimum answer for starting firms or for producing pilot batches, development of formulas and trying of new kinds of manufacturing.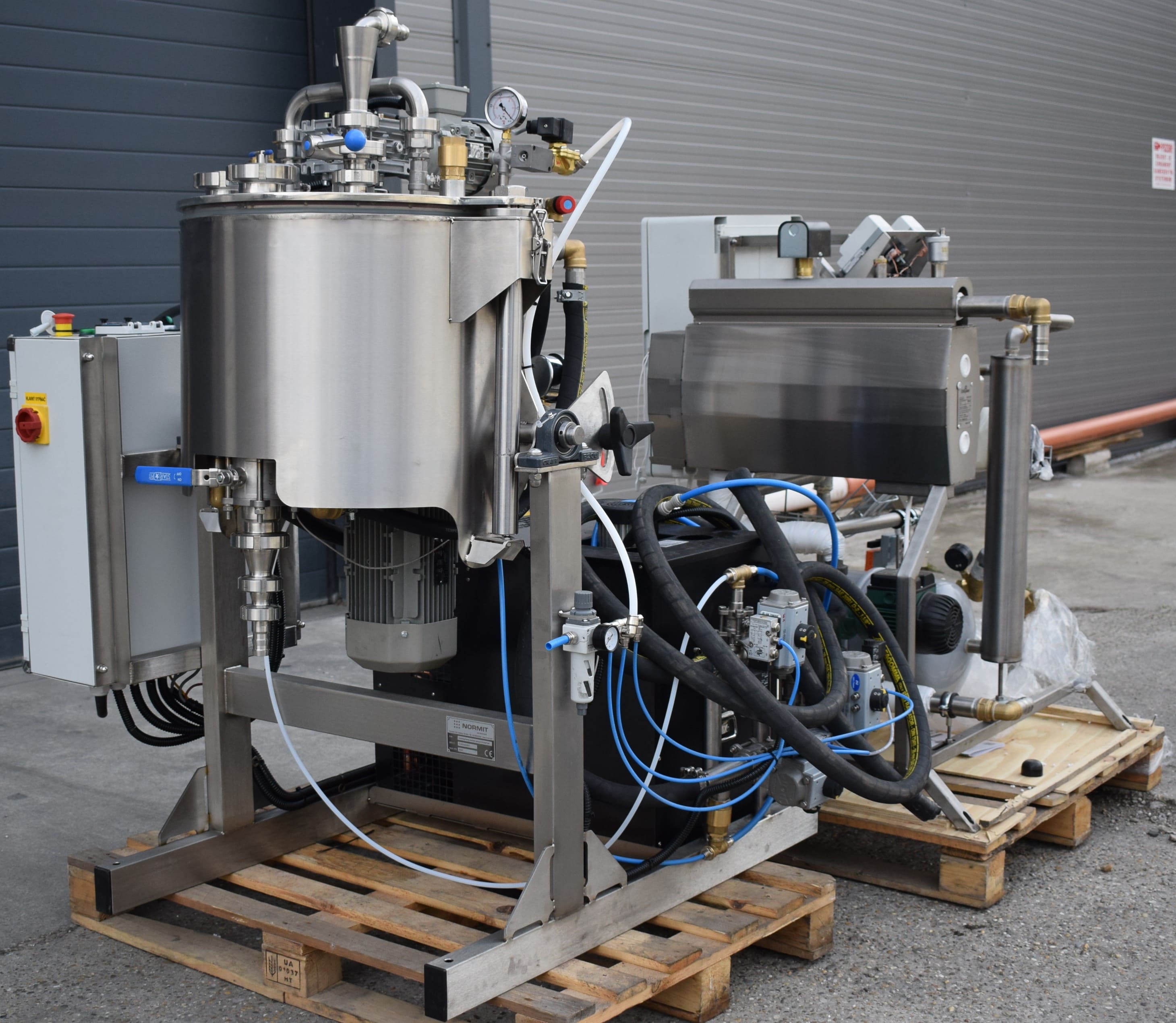 Achieved methods:
Heating
Chilling
Boiling
Stirring
Dispersing
Emulsifying
Homogenizing
Deaerating
Suited material for laboratory vacuum homogenizing machine:
Dairy - yoghurt, creamy cheese, condensated milk, creams
Fat - soft butter, mayo,
Marmalades, jam, ketchup, dressings, purees
Sweets - choccolate, nut fillings
Non alcoholic beverages - juice. other beverages
Cosmetics - cream, soaps, gels, toothpaste
Pharmaceutics - balms, solutions, gels.
Chemical merchandise - solvents, glues, dye
A composition of this machine comprises of an operating vessel fitted with an insulation plus a heating / chilling jacket. Lower speed stirrer with scrapers possesses a top drive. At the base section of a basin is a homogenizing device based on the rotor-stator mechanism. Tank installed on rotating structure with fixating, material discharge is guaranteed with the vessel incline (by hand or automated, depends on a capacity of the vessel). Top covering is simply inclined (either by hand or by means of gas-filled silencers placed at the back) and is secured in its shut location with 4 clasps.
With regards to the buyer's requirements, various degrees of automating may be chosen: weighing, distributing of the material, heating, chilling management, thawing, emulsifying, homogenizing, mixer speed regulation or a degree of vacuum.
Generating vacuum in a laboratory vacuum mixing machine 
The method of eliminating air enables decresing the production temperature, conserving utility characteristics to the maximum.
Stirring process 
Uniquely designed agitator plus geometry of operating vessel guarantees balanced stirring of additives. As a result of a unique "floating" scrapers, material doesnt get into the walls of a basin while helping maximizing heat or cool heat exchange from the surface to the material.
Homogenizing process 
The installed rotorstator homogenizing device at the lower part of the vessel guarantees quick and effective dispersing, emulsifying and homogenizing with a particle diameter of up to 3 microns (tinier on request). The achieved material possesses an attractive external look, a steady homogeneous form, doesnt isolate plus possesses a lasting shelf life. With the aid of homogenizing device, recirculation and material discharging is accomplished, no extra pumps should be needed, enhancing hygiene plus ease of care of the machine.
Heating and chilling
The heating, chilling jacket provides heating, thawing and chilling process to be executed in the same machine. As an option, direct steam injection into the material enables a substantial decline in the heating period or smaller material production period.
Automatic control mechanism eradicate the human factor and ensures a constantly higher quality of final material.
Advantages:
Lower expenses for buying machines, ideal for start up firms,  evolving new formulas or making of pilot manufacturing batches.
Ability to produce many different fluid, pasty, sticky or higher viscous materials.
Minimal filling, 15% of the tank capacity.
Big efficiency.
Stable structure, lasting trouble-free working life.
Quick change for the new material
Easy to handle, maintain or clean.
Lower operating expenses, lower energy usage.
Quiet operation.
OPTIONAL:
Adding other material in the homogenizing compartment.
The hopper for adding material into the vessel while the machine is working.
Tank inclination.
Cover may open thanks to the gas-filled silencers.
Different kind of mixers.
Amendable rotating speed of the mixing tool.
Steam in the material
Various degrees of automation.