Inline mixer | Inline homogenizer | High shear mixer
The inline homogenizing mixer has been constructed for emulsification of liquid and viscous products in the food industry, but also in chemical or cosmetic industries. This equipment works on the rotor stator principle.
The homogenizing unit can be equipped with a hopper, installed at the top of the equipment, and recirculation loop, plus an unloading valve for fluid or semi-liquid products. Because of its exclusive design, the homogenizing machine ensures ideal conditions for manufacturing also overly delicate products. The machine is equipped with a simple and effective sanitating system.
The mixer homogenizer was designed for the manufacturing of products like ketchup, mayo, dressings, but also cosmetics such as lotion, cream, solution and suspension. Many possible options guarantee a high level of adaptability.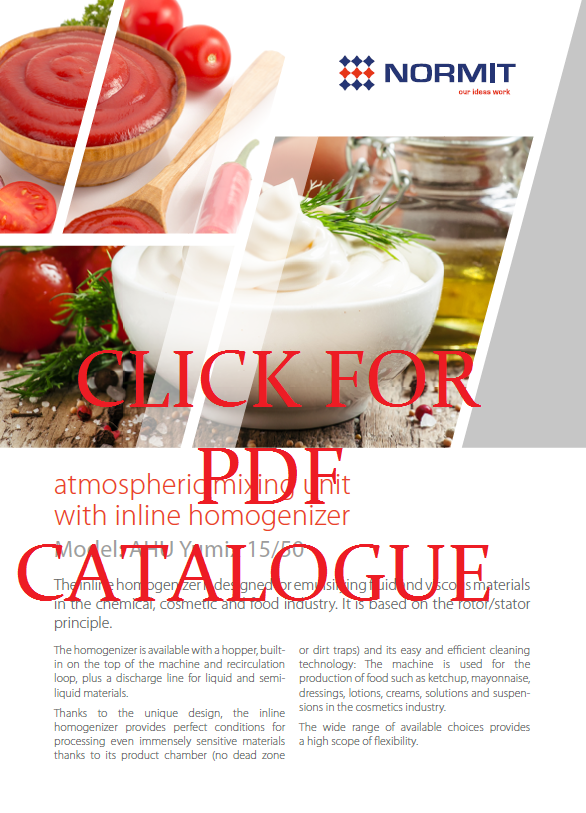 Emulsifier - Benefits:
Technology for superior product performance and hygiene.
Highest quality
Highly efficient
Optional:
Advance processing chamber
CIP/SIP suitable
How it works

The homogenizing machine is based on the rotor/stator system. The product goes in with a help of a pump and afterwards stirred via recirculation loop with help of the homogenizing unit. The high shear forces of the equipment help accomplish emulsions with a droplet size of down to 1 μm. Powder products loaded into the hopper are too beautifully distributed.
To find out more, email us at This email address is being protected from spambots. You need JavaScript enabled to view it.