Processing line for sugar beef and chicory
Production line for washing and cutting vegetable
Washing of

root vegetables

with a complicated

structure

as

sugar beet

or

chicory root

requires

2

washing

stages

-

pre-wash

vegetables that

gets rid of

rough

dirt

of

vegetable

and

final

wash

,

where the

vegetables

well-

cleaned,

washed

, so

they can

go

for further processing

(

eg.

Cutting

)

or

directly

on

packaging

e. 
A. PREWASHING OF VEGETABLES
CYCLONE DESTONER WITH DRUM WASHER  CDDW1000
Cyclone destoner with drum which catch the grass and drum washer ensure efficient pre-wash of root vegetables before entering the washer UCRK. Root vegetables are transported on the conveyor to the cone container.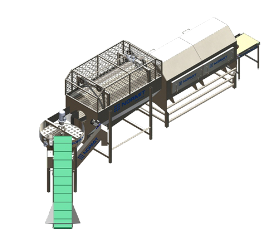 VEGETABLE CUTTER
Vegetable cutter NORMIT KVN is a universal device designed for cutting different kinds of vegetables and fruit such as potatoes, carrots, onion, cabbage, pepper, papriky, celery, cucumber, sugar beet, apples, kohlrabi, tomatoes, eggplant, peach, pineapple, strawberry etc. NORMIT KVN can cut products up to 200 mm in diameter.
Principle: The raw product enters the rotating cutter drum through the hopper. The centrifugal force pushes the product onto the inner wall of the drum and the blades move it through cutting blades that cut the product into slices. The thickness of the cut is adjustable by changing the gap between the drum wall and the blade of the knife. Additional circular knives cut the slices into strips.