JAM COOKING UNITS
JAM COOKER UNITS
Kotly na džem/ Zariadenia na spracovanie džemu
We can provide different technological solutions for jam preparation: jam vacuum cooker and jam cooking kettle. Both system with production capacity suitable to cover the need of the small laboratories and big industries.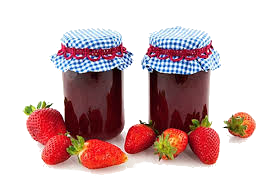 JAM COOKING KETTLE / JAM MIXING VAT / BASIC EQUIPMENT/ STAINLESS STEEL PROCESSING VESSEL FOR JAM

T

riple-jacket

stainless steel boiler

for

making jam, manufactured in stainless steel AISI 304, suitable for using in food industry with the following characteristics

H

eating

are steam or electric



Stainless steel tank, with glazed and pickled inside and outside surface


Stirrer at low speed to keep the fruit cream in agitation and not to smash fruit with variable speed.

Lateral footpath to inspect the product

In case of steam heating (steam adjusting group- composed by: spherical valve to discharge the condense, manometer, manual valve, filter, steam adjusting valve; condensate discharging group_

 

 
Basic equipment

T

riple-jacket

stainless steel boile

r
Heating

steam or electric



Optional equipment

I

nside

the boiler

could be

stirrer with

t

eflon

scrapes

which

follows the

sides and

bottom

of the boiler (as option)




 version as pasteurizer

double- jacket version ( jacket thickness 1,5mm-3mm)

 

 

VACUUM JAM COOKER / VAKUOVÝ VARIČ NA ĎŽEM

 


This unit is designed to cook fruit with sugar to prepare food product
 

The machine is characterized by spherical bottom and lid, manufactured in compact version.


The heating may be steam or electric.

Machine consist from 
Stainless steel triple-jacket vessel


Pneumatic valve to charge the ingredient

 

Manual service valve to charge with service tank to charge the pectin or other additive mixture/ if the Unit to prepare the pectin can be charge


 

Pneumatic discharge valve

Frame stirrer


Surface tube nest condenser

Condensate discharge group (condensate trap, sight glass, and check valve,  safety valve)

Vacuum unit

Additional equipment :

Manhole with security switch


 Sight glasses

connecting tap

measuring equipment like (thermometer, vacuum meter, sample tester, manometer)

filter

safety valve

isulation

teflon scrapes