Lid closing CSM
 Model: CSM
The CSM model is designed for closing the lids on buckets filled with food products (HORECA packaging and wholesale packaging) as well as non-food products such as paints and other products in the chemical and other industries.
The principle of operation: 
Operator put the bucket partially covered with lid on a special conveyor that is equipped with rollers spread at different height. The rollers gradually press the lid and tightly close it on the bucket. The last roller is set to guarantee complete closure of the bucket by lid.
The conveyor design is reinforced to withstand the pressure of the rollers.
The adjustable height of the rollers makes it possible to use one conveyor for closing the lids on buckets of various volumes and heights.
The width and length of the conveyor are determined according to the required power and the type of closed buckets.
Benefits:
The conveyor is completely made of stainless steel AISI304, which guarantees corrosion protection and long service life.

Reliable, reinforced construction.

Versatility. Possibility to close the buckets of different volumes and heights on one conveyor.

Increase productivity. The use of a conveyor for closing the lids greatly accelerates the work of the operator and increases the productivity of the packing lines.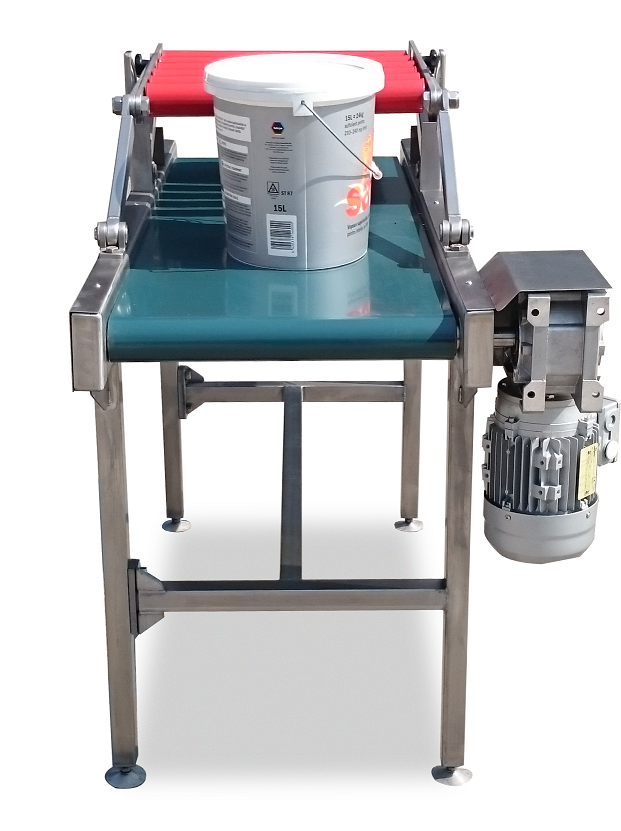 Dimensions:
A: length, mm    1 468
B: width, mm        778
C: height, mm    1 325