Conveyor

deep

fryer
Conveyor deep fryer combines effective design, high performance, simplicity and high quality frying. 
the conveyor fryer is made for frying and deep frying vegetables, mushrooms, fast food, fries, chips, nuts, meat and fish, dumplings, onion rings, squid, crackers, popcorn, snacks, confectionery and bakery products, donuts, crackers, spring rolls and buns.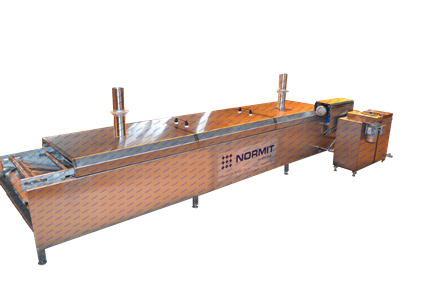 Processes:

deep frying

frying

baking

heating
Deep fryer NORMIT OIL fried products quickly, efficiently and uniformly. The oil in the fryer is heated to 150 to 200 ° C depending on the type of product to be fried. Frying takes just a few minutes. The resulting product has the same temperature, a uniform color and texture. Each piece is baked uniformly over the length of the conveyor.

The source of heat are electric heaters. Heating elements are advantageous in that they provide efficient heat transfer. This method of frying supplies 97-99% of the heat directly into the oil, which ensures a perfect finished product with you all the desired properties. Heating elements are advantageous in that they provide efficient heat transfer. The product passes between the lower and upper conveyor. he upper conveyor (retaining) provides continuous emergence of product.Baking time and temperature are adjustable.
Control system 



Controling is ensured by automatic control (PLC), which is designed for more complex machinery, equipment and production lines, where it is necessary to record the temperature, temperature sensing, signaling limit parameters, take multiple values, automatic dosing, level control, time setting, monitoring, etc. There is also ability of connecting to PC, connect touch screen or conect to ethernet.



Benefits of frying in deep fryer NORMIT OIL
Quality

fried

product

is favorable to the

flavor and

aromatic characteristics

With our

deep fryers

you can

achieve

uniform and

homogeneous appearance

of the final product

The result is

high quality and

easily digestible

final product
The fryer is usually placed in the technological line in part. The baked goods are further processed (mixing, freezing, packaging).

Deep Fryer Advantages
Oil

filtration system

Oil

circulation system

Oil level check

Adjustable

belt speed

The universality

Easy operation

Low cost

Fryer

High performance

deep fryers

and

low power consumption

Stable operation

at high temperature

and

safety
The control panel

allows you to

: turn on and

turn off

the oven

,

emergency stop

,

motor

overload

protection

,

undervoltage

protection against

partial

or complete

power failure

.
Effective solution
for your
production
Single-line
conveyor
fryer
NORMIT
OIL
Twin line conveyor fryer

Conveyor fryer comprise from multiple line
Multi-line

fryer

NORMIT

OIL

allow you to

set different

degree of heat

in

each tunnel

(

hybrid

heating)

,

which enables you to

produce

several kinds of

products

simultaneously. 

Conveyor

fryers

are available

with heating

,

drying

,

frying

,

deep frying

or

another function

that you want

for your

recipe

.

Size                                              

| | | | |
| --- | --- | --- | --- |
| Size | A | B | C |
| NORMIT 1 |  1400 | 450 | 870 |
| NORMIT 2 | 2450 |  450 | 870 |
| NORMIT 4 |  3350 | 550 | 870 |
| NORMIT 5 |  4300 | 550 | 1000 |
| NORMIT 7,5 | 5000 | 1300 | 1660 |
| NORMIT 10 |  6480 | 2000 | 2060 |
| NORMIT 20 |  8450 | 1990 | 2240 |