CIP Clean-In-Place system NORMIT
NORMIT Company Ltd. develops and manufactures a variety of equipment for the food, cosmetic, pharmaceutical, chemical and other industries. We place high demands on product quality and we pay special attention to the introduction of innovative technology.
---
Clean

-in-place

(CIP)

is a method of

cleaning the internal surfaces

of

pipes, vessels

, industrial equipment, filters, and

related fittings

,

without disassembly

.
CIP system was originally used mainly in factories
with high demands on cleanliness and hygiene (dairy,
pharmaceutical companies, etc.). Currently, the development of
technology and increase production caused the CIP system came into
use in various sectors.
CIP USAGE

The CIP (Clean in Place) is designed for the internal cleaning of
tanks, pipes and fittings in lines without dismantling.



---
PROCESSES

:



ADVANTAGES OF CLEAN-IN-PLACE SYSTEM
CIP system greatly improves the economic performance of the company due to its advantages:
Significant reduction in

cleaning time



decreasing number of personnel


saving money -

CIP

system

uses software

for the effective use

of detergent

improving the quality of

sanitation

facilities



---
NORMIT

CIP

cleaning

systems meet the

most strictest

European standards

and requirements for quality

and

equipment reliability

while being

an affordable

solution that

can be implemented

in modern

washing facilities

in practically

every sector

.
---
BENEFITS OF CIP SYSTEM FROM NORMIT
High-quality processing, ensuring long-term trouble-free operation, confirmed certificates.

High-

quality materials and components from leading European manufacturers

;

Competitive prices, custom production according to client's requirements

High performance

Can be used for cleaning various equipment - tanks, pipes, dryers, pasteurizers ...

E

asy maintenance and cost-effectiveness;

H

igh accuracy

The possibility of a

changeover to

another machine

(

device)

or another

cleaner

;

Each

degree of automation

is

integrated

into the production

system

;
May be provided with

another apparatus

-

dosing

of detergents

, water

acid

,

soda

,

water

,

wastewater

neutralization

,

...

;

Can be produced

CIP

Ex

ATEX certified

version

-

is required

,

when the

fuel

detergent

is used

or an organic solvent

;

CIP

system can be

equipped with a

p

ipe cleaning with

dry

hot air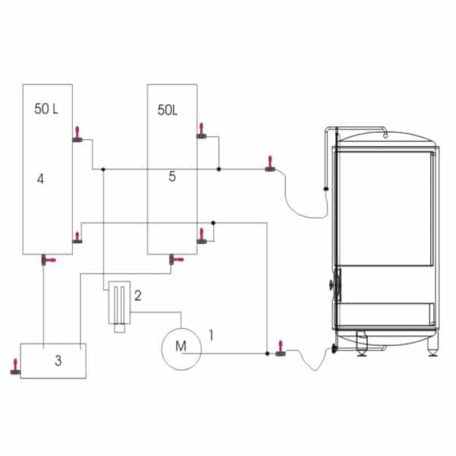 CIP

variants

and

principle
The CIP station with a capacity of 2×50 liters is used for cleaning, sterilization, and sanitation of vessels and pipes. This kind of the CIP system is perfect for cleaning and sanitation of tanks with capacity from 0 to 2000 liters.
The station is installed in a fixed frame with lockable wheels. Made out of stainless steel 1.4301 (AISI 304) or 1.4404 (AISI 316) depending on the selected variant. Containers (vessels) are not insulated.
For more information about our CIP system, please contact our sales department at This email address is being protected from spambots. You need JavaScript enabled to view it.