CIP system
CIP
The CIP (Clean-in-Place) is designed for interior cleaning of tanks, pipes and industrial equipment in production lines without dismantling. Originally CIP disinfection used mainly in factories, in places where there were increased demands for wholesome products (dairy, pharmaceutical companiens), but with the development of technologies and companies in various industries using CIP system as technological equipment.

CIP systems significantly improve the economic performance of the
company due to its advantages such as:
Significant

reduction of the period

of sanitation

cleaning equipment

, reducing

downtime

;
Economical

use

of maintenance

;
CIP

systems use

software for effective

cost

of detergents

;
Improved

sanitation

facilities

with hand

washing

.

The absence

of human factor

provides

a sustained high

rate

care

about

the finished product
NORMIT CIP cleaning systems meet stringent European standards for quality and reliability, while being cost efficient solution than implement modern washing facilities.

Benefits of CIP disinfection
high product quality ensures long-term trouble-free operation, which is confirmed by the ECP.

In the manufacturing process used materials and components only from leading European manufacturers;

Reasonable price of the equipment, possible to make a device according to the customer;

High efficiency;

Can be used for cleaning various equipment - tanks, pipes, dryers, pasteurizers ...

Easy maintenance

Precise preparation of cleaning solution and maintain the desired temperature;

Ability to work quickly with other detergents or other types of equipment;

Any degree of automation - from initial integration into the production system of the company;

Can be fitted with additional equipment (stands cleaning solutions, storage tanks acid, soda and water, neutralization of waste water ...)

The possibility of making the CIP cleaning of the EX version is ATEX certified (in case it is used for petrol or organic solvents);

CIP cleaning can be provided with a hot air pipe.
Each individual station CIP is based on information from the customer:


Type of device to

be

purified

CIP

system

(

tank,

the drying unit

...

)

Technical

parameters of the device

(flow rate

,

volume

,

etc.

)

The number of

rinses

device

for determining the

required number of

circuits

CIP

disinfection

The length and

diameter of the

pipe

The cleaning

program that

will

provide the highest quality

at the lowest

cost of time

,

energy

and

detergent
Kind washing facilities NORMIT CIP differ in design and functional features of the model:
One-

,

two-, three- or

four

capacitive

CIP

cleaning

with a standard

volume of

100 to 5000 liters

.

Tank capacity

is determined

by

the technical characteristics of

the device.

To

request

the

CIP

system

produced

with any

volume of

containers

;

Model

of 8

units

is

standard

.

Stationary or mobile

version
Automation:


Our company offers CIP disinfection with different levels of automation, depending on the needs of the customer - from the hand-washing, to fully automated solutions, including control over dispensing detergent (with dosing system). Maintains optimum concentration of the cleaning solution in the working tank, controlled detergent concentration. Time management, cleaning process, temperature, and archiving of all data, etc.
Automatic selection system:

CIP system allows you to control the system, including through the Internet or via LAN.

When choosing the level of automation for CIP cleaning is important to understand that when you buy a more expensive system with a high level of automation, you can invest money in efficacy and safety equipment, thereby reducing operating costs in the future.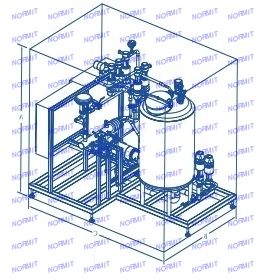 One and two capacitive CIP systems NORMIT serve small businesses
Overall dimensions
Height 2440 mm
Width 1830 mm
Length 2740mm
Weight 1900 kg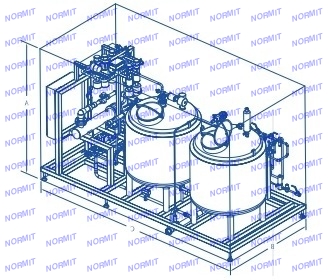 Overakk dimensions
Height 2440 mm
Width 1830 mm
Length 3960 mm
Weight 3100 kg
standard single-circuit CIP system NORMIT composed of four tanks