Centrifugal separator - NORMIT
NORMIT company develops and manufactures various equipment for the food, cosmetic, chemical, pharmaceutical and construction industries. We are the market leader in the production of technological equipment. We place high demands on quality and we pay special attention to the introduction of innovative technologies.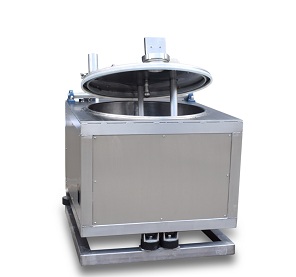 Centrifugal hydro extractor is primarily used for the concentration and separation of fine particles  with high-density material
The centrifugation occurs in a cylindrical container due to centrifugal force and the difference between the specific gravity of impurities and flowing fluid.
Centrifugal separator is based on a rapid rotation of the drum, in which on the inner wall are a concentric groove in which occurs  a sediment accumulation.
Input material is dosed from the top to the bottom of the drum, from where is by centrifugal force distributed upwardly to each of grooves. Industrial hydro extractor works semicontinuous manner.
Heavy parts are after filling of grooves drained at the lower drain by a hand lever.
Centrifugal hydro extractor NORMIT are very compact device with a good performance considering their size..
Centrifugal separator NORMIT is able to separate the impurities with effect from 70 to 90% depending on the particle size.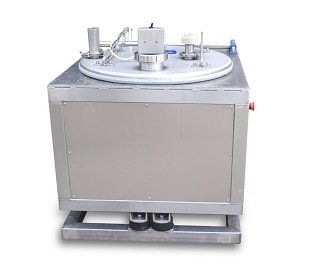 Centrifugal hydro extractor can be optionally equipped with an automatic desludging, desludging then takes place automatically depending on the setting of timing relay.
DIMENZIONS