Mixing vessel | Mixing tank | Storage mixing tank ACM 2060
Heating, cooling, storage and tempering vessel with stirrer
ACM storgage vessel for mayo, chocolate, sour creams or other products is constructed for an effective mixing, heating, cooling or tempering material after production process. When using independent tank for the cooling, a bigger capacity in the production process is gained and the loss energy is limited thanks to the alternating of heating and chilling.
All about mixing you can find here - Mixing (process engineering)
Advantages of container for chilling and storage of sauces 

Pillow Plate  heat exchanger
Highly powerful heat swap. The uniquely designed heat exchanger supports the use of a coolant under pressure, together with providing thorough distribution through the whole area of the cooling jacket, with no dead zones.
Specially designed stirrer with scrapers. The enhanced slow speed stirrer has been constructed for mixing of hard viscous ingredients, because mayonnaise or other materials can get thicker naturally and turn more viscous while chilling. The material doesnt indoctrinate and doesnt detached into fractions while mixing, and particles are not destroyed.
The scrapers on the mixer cover 99% of the area of the walls and the bottom of the vessel, which ensures a continuous and dynamic method of cooling. The design of the stirrer was especially constructed to assure the high performance of transporting a cool temperature from the walls to the product with no damages.
The vessel is easily disassembled, allowing for simple and comfortable cleaning and checkup. The big frame assures even construction in large volume tanks, and ensures the equipment is disassembled easily.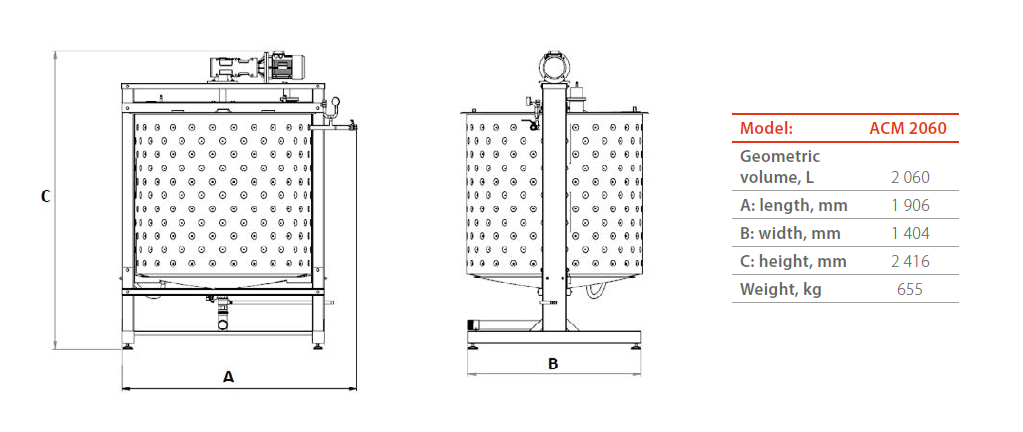 To receive further information about our storage tanks, or for a free consultation, send us an email to This email address is being protected from spambots. You need JavaScript enabled to view it.