Homogenizer mixer PM 100 HILL - NORMIT

This mixing equipment with inline homogenizer 

 for production of mayonnaise, sauces, soups and other homogenized products is made of high-grade AISI 304 stainless steel with one-piece conical bottom construction, flat ½ opening height and special NORMIT SCRAPED STIRRER equipped with teflon scrapers.

 

Teflon scrapers effectively blurring the product from the wall of the container which allows maximum use of the product as well as more efficient cleaning of equipment. Stirrer Normit is powered by motor gear. Homogenizing is provided inline homogenizer with strong electric motors. Part of the mixer stainless el. control box with a button control.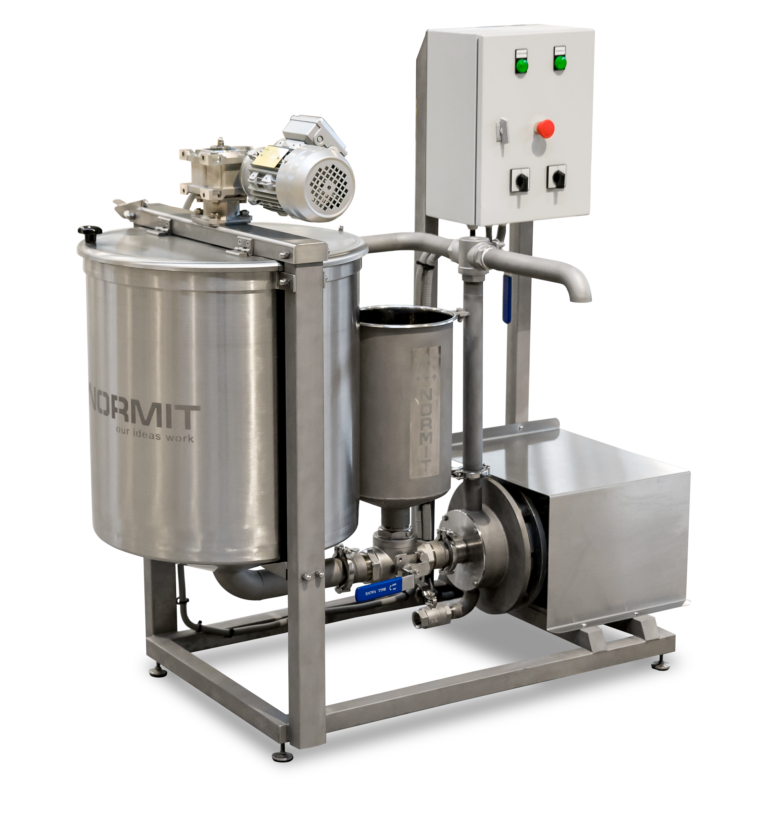 How mixer homogenizer works
Homogenization of the product is provided by an inline homogenizer (located outside the vessel) which operates on the rotor / stator principle. This model is suitable for the production of emulsions and suspensions over a wide range of viscosity. The homogenizer also fulfills the function of the pump, ie. that it can bring the product into the container and also from the container to homogenize the product itself. 
Step 1
High rotor speed ensures stirring, homogenizer ensures liquid pumping, non-homogenized mixture into the rotor / stator.
Step 2
The centrifugal force drives the product along the circumference of the working head, where the product is mixed.
Step 3
The product is stirred vigorously at high speed, through the holes in the stator the product enters the pipeline. At the same time, the product is pumped into the working head and the mixing cycle is repeated. 
For more information, or for a free consultation, send us an email to This email address is being protected from spambots. You need JavaScript enabled to view it.