Atmospheric tank
Company NORMIT has significant experience in a wide range of atmospheric storage tanks in stainless steels and duplex materials and for a wide range of industries and applications

Vessels are used in food industry, manufacturing of colours, in chemistry and other types of industries.
They are used for these  operations: storage, heating, cooling, mixing, sedimentation, transportation, and so on.
They are made from stainless steel AISI 304, AISI 316, AISI 321.
Internal volume is from 10 to 100,000 l.
Tanks can be simple, double or triple jacket.. Saline, propylene, water, coolant, oil, glycerine, vapor are used as a coolants or for heating. Tanks have a conical, round or flat bottom.
The bottom shell is welded, to ensure maximum strength, durability and reliability. Loading and unloading pipe is located on the bottom.
Tanks may be equipped with a control manhole, hold-down straps, lighted indicator (eyepiece tube, calibration), ultrasound sensors, control panel, mixer, standard spiral, electrical isolation, lifting lugs, heaters and ladders. The cover can be closed by lid,, with fully removable cover or can be open to 1/2 or 1/3 parts.
They are designed for milk production, mayonnaise, marmelade, ketchup, sauce, cream, chocolate, syrup and mixing of liquid fat.
Boiling tank is insulated tank with water or steam isolation, with gear motor and stirrer equipped with facilities for drainage products with temperature sensor and remote control. Variant - standing design is made of stainless steel, mirror stainless steel. Upon request, mineral wool insulation.
Boiling pans are used to cooking sauces, dairy products, condensed milk, caramel, soups, cereals, production of canned, concentrates and evaporation of liquid.
They are used in food industry, pharmaceutical industry and in manufacturing of colours. The boiler is a vertical dtank with a steam jacket and insulation. The boilers are equipped with a stirrer. engine. gearbox with paddle. They can be open or may have lid. for covering
See also
Storage tanks and cooling of milk
Tanks are used in milk industry for income, storage, cooling and heating of milk. It is a horizontal tank with two bottoms that is mounted on legs. Tank consists of two jacket. They are made from stainless steel AISI 304, AISI 316, AISI 321  Clamps are argon arc welded.
Tank with a circular or elliptical cross-section, with inner tray, covered with insulation.
The bottom shell is welded to the butt to ensure maximum strength, durability and reliability. Supply tanks have cover, illuminated level indicator (Inspect pipe, float), ultrasonic sensors, control panel, one or more mixers.
The lid is sealed. Milk tank at 30 ° C for 10 hours warming up or cooled to 2 ° C. Milk cooling is carried out by adding cold water or ice.
See also
Tank is designed to make cheese and liquid milk products and also for production of food (for heating). The device leads to pasteurization of milk and milk cultures.
The equipment is thermally insulated stainless steel tank with stirrer, equipped with facilities for inlet and outlet product, level sensor and control panel.
Electric mixer ensures uniform conditions throughout the volume of the prepared product. Heating, tempering of the product is ensured by maintaining the desired temperature, embedded heating elements which are located in the space between the outer and the inner casing. Cooling is done with tap water.
The control panel allows to set and automatically maintain the desired operating conditions. Is it possible to make a device with a steam jacket for heating products.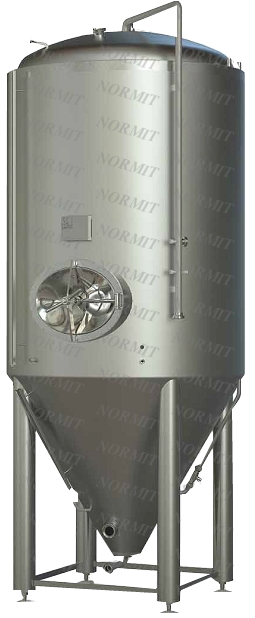 CKT tanks
Vertical cylindrical tanks for fermentation and maturation of beer. The CKT beer is cooled to a temperature of fermentation and  beer yeast are add.
 Specification
| | |
| --- | --- |
| Model |   |
| Capacity, l | 10 - 100 000 |
| Number of layers, ps | 1 - 3 |
| Power mixers, kW | 2,2 - 4 |
| Power mixer, kW | 7,5 - 22 |
| Heater power, kW | 5 - 90 |