Tank, vessels
The tanks are used for storage of various kinds of products, they are intended for different industries and are used for any process - heating, cooling, mixing, storage, pasteurization, measurement, fermentation, cooking, and the like. Can be equipped with stirrers, agitators, sensors and etc.
Uses

These devices are used in the food, chemical, pharmaceutical, cosmetics and construction industries and other industries.
Variants

jacket- single, double, triple


warehousing

,

storage

processing:

heating

, cooling

,

cooking

,

mixing

,

measuring,

fermentation

pressure

, vacuum

open

,

closed

slow running

 

(

anchor

stirrer

)

,

high-speed

stirrer

(turbine

stirrer)

Reservoirs, tanks

,

boilers-kettles

,

reactors

different types

and

shapes
 Processes:


    

heating

and

pasteurization

of the product

    

storage

    

cooling

product

    

mixing

product
Controling

Controling can be provided in two ways:

    

Manual control

is

designed for

simpler

machines and technological

equipment

,

which

the technological process

is not

complicated and

therefore

do not need

complicated programming

.

Simple operation

using the ON

/

OFF

.
 by

automatic control

(

PLC

)

,

which is designed

for more complex

machinery, equipment and

production lines

,

where

it is necessary to

record the

temperature

,

temperature sensing

,

signaling

limit

parameters

,

take multiple

values

,

automatic dosing

,

level control

,

time setting

, monitoring

, etc.
Examples of tanks

Tanks are used for heating of drugs in the pharmaceutical industry. Can be also used in other industries for heating product.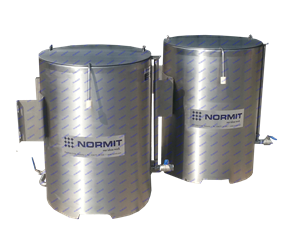 Heating tanks are made from AISI 304 and AISI 316. The tanks are equipped with an analog thermometer and thermostat. Manufactured according to GMP standard.
These tanks may have different specifications and can be used to heat various types of drugs.

The reactor is used for the preparation of suppositories in the pharmaceutical industry.
The reactor is equipped with a stirrer for stirring the raw material.
The reactor is pressure vessel (3 bar), equipped with stirrer. Reactor is equipted with door control, lighting, funnel for adding components, rotating shower head, temperature sensor and control panel. Temperature sensor have a data logger which stores the values of temperature. Heating is provided by an electric heater. Material - stainless steel.

Evaporator is a device that is used to vaporize. The evaporator is closed cylindrical vessel, consisting of the inner vessel and the outer shell consist of the steam and bottom, where the power is placed.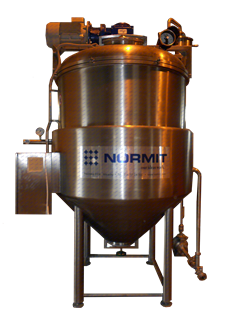 Mixing processed product provides stirrer. The vacuum is created inner machine with a vacuum pump.

It consists of a evaporation vessel (tank), a condensation chamber with a chiller and a vacuum pump. Vacuum pump set on a underpressure on the vacuum gauge (min - max). VACUUM evaporator is suitable for continuous operation 24 hours, 7 days a week. is manufactured to GMP standards, so it is suitable for the pharmaceutical industry. It is made of high quality stainless steel.

The boiler (kettle) is a device used for heating, cooking and mixing of product. 

They are used for cooking sauces, sweetened condensed milk, toffee and caramel paste, fruit fillings, soups, cereal products, in the manufacture of cans and concentrates. They are equipped with a stirrer. Can be open or may have a folding lid.
Pasteurisation tank  are used for  manufacture of cheese and liquid milk products, pasteurizing food products. The device is thermally insulated.