Homogenizer mixer | Mixing vessel | MG UGM 300
Homogenizer mixer | Mixing vessel | MG UGM 300 is an ideal solution for manufacturing of different kinds of cosmetic products, ointments, gels, emulsions in the chemical and cosmetic industry, or for the productions of sauces, pastes in the food industry.
Mixer Homogenizer Machine - Superior quality final product 

The final product has an appealing look, while being homogeneous, with a long shelf life.
How it works

The professional mixer blender homogenizer MG-UGM is the machinery designed for mixing, dispersion, homogenization, and emulsification of the product with the recirculation method.
UGM professional mixer benefits:
Designed for the production of many different liquid, viscous or pasty products
High performance
Quick change to another type of product
Easy operation, maintenance and easy to clean
Low operating expenditure,  low energy consumption,
Low sound level
Quick and effective 

The mixer homogenizer on rotor-stator principle assures quick and effective homogenization, emulsification or  dispersion.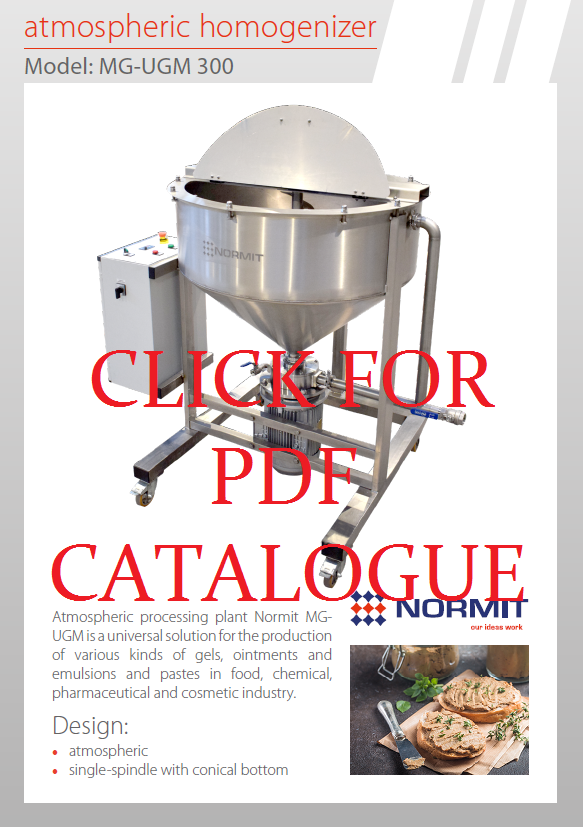 The homogenizer can be equipped with options: 
Vacuum
Different types of mixer
Teflon scrapers
Changing the rotational speed of the mixer
Cooling or heating jacket with insulation
Steam supply into the material
Automatic control panel 
Electric or steam heating
Chiller
For more information or for a price quote, send us an email to This email address is being protected from spambots. You need JavaScript enabled to view it.