Vacuum cooker NORMIT
Vacuum cooker VC600 is designed for vacuum processing of jams, marmalades, jelly base and similar products, homogeneous or with pieces. 
Vacuum cooker NORMIT consists of two discontinuous boiling boilers in which the product is being alternately prepared, which ensures a continuous supply of cooked mass to the dispenser. The loading of components is carried out by vacuum through a filling hopper that is located at a level suitable for the operator, which makes it much easier for the operator and there is no need to use additional jacks/tippers.
The special design of Vacuum cooker NORMIT ensures ideal cooking, excess moisture removal, mixing and dissolution of all ingredients. The boilers are equipped with a special shape agitator/stirrer with innovative scrapers, which effectively and continually clean the inner walls of the boiler from the adhered product, prevent from burning and ensure even heat treatment of the entire volume of the product.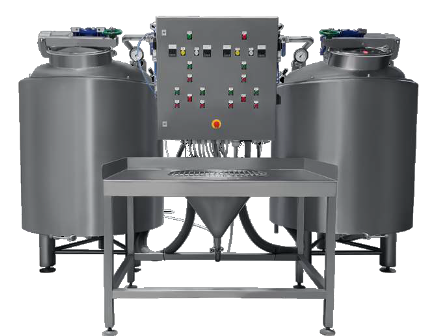 The cooking under vacuum enables to remove excess moisture with minimal energy loss, ensures maximum preservation of the color, taste and aroma properties of the product. Reducing the boiling point of the product under vacuum allows the addition of heat-sensitive ingredients during cooking.
The unloading of the finished mixture is accomplished by means of a pump.
Properties of Vacuum cooker NORMIT :
The whole device is made exclusively of AISI 304 food grade stainless steel, scrapers are Teflon.

The special shape of cooking boilers for the optimal cooking process.

Special innovative scraper construction.

Compactness - optimal distribution of all elements in a small place, convenient compositional solution for the operator.

Hygiene - comfortable washing by connecting to the CIP system. There are no zones where a product could accumulate or would difficult to clean.

Steam, electric or gas heating.

Various size of boilers.

Vacuum generator is included in delivery.
 Benefits of Vacuum Cooker:
High product quality thanks to quick cooking at low temperature. Preserving the color, taste and aroma of the finished product.

Effective stirring and dissolution processes, even distribution of small amounts of ingredients throughout the whole product.

The absence of dead untreated zones

Uniformity of thermal load

High performance, product preparation alternately in two boilers, for continuous delivery to the dispenser.

Convenient loading of components by vacuum.

Convenient unloading of the finished product by means of a pump (or other variants according to customer requirements).

Affordable price, low cost of operation,  minimum energy consumption for product processing.

Individual composition and variations according to customers wishes.
For more information about this product, contact our sales department: This email address is being protected from spambots. You need JavaScript enabled to view it.