Vacuum processing unit VMG S 650 NORMIT
Vacuum processing unit VMG S 650 NORMIT
Vacuum mixer homogenizer represents a highly efficient and reliable solution for making a wide range of food products - mayonnaise, ketchup, various sauces, confectionery pastes and filling, condensed milk, jams, marmalades, canned fruit and similar liquid or pasty products with a homogeneous structure or hard ingredients.
Vacuum processing unit VMG S650 performs the following processes with maximum efficiency: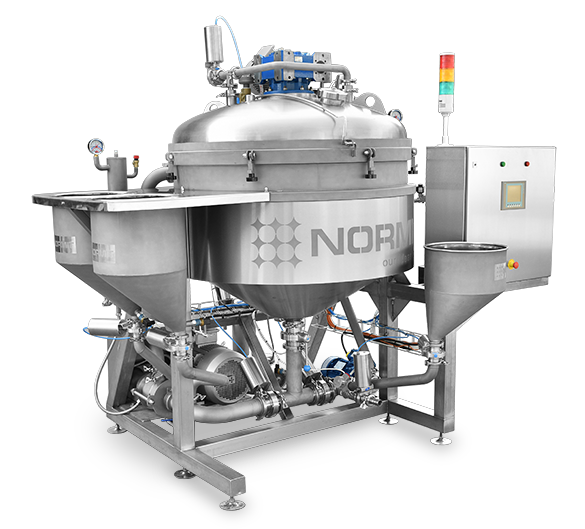 Heating and cooling

Mixing

Evacuating and de-aeration

Milling

Homogenization

Creation of stable emulsions and dispersions.
The main features of vacuum emulsifying mixer NORMIT
A modular design that allows you to select the optimum working module for various kinds of production - cost effective.
Versatility and flexibility in use. It is suitable for the production of most liquid, pasty and high viscosity products.
Hygienic design, easy access to all interior surfaces, without hard-to-reach places where the product can accumulate. There is no need for an additional product unloading pump, which leads to higher hygiene.
Easy sanitation by connecting to a CIP system.
Possibility to be used alone or simply integrate into an existing production process.
Minimum processing time for one batch thanks to the high efficiency of heating /cooling, milling, mixing and homogenization processes.
High efficiency of the homogenization process - Strong and reliable rotor-stator homogenizer for the production of products with different properties.
Ingredients are added through a vacuum chamber of the homogenizer, which ensures their immediate moisture, uniform distribution and dissolution in the entire volume of the product and without lump formation.
The optimum construction of the working chamber ensures uniform mixing of the product. The low-velocity stirrer is equipped with scrapers that effectively clean the container walls for maximum heat exchange. The product is heated evenly without local overheating or burning.
The special shape of the heating/cooling jacket allows the use of a high-pressure heat transfer medium which significantly improves the heat exchange and minimizes the time required for processing one product batch.
The efficient vacuum system guarantees high-quality de-aeration of the product, which greatly improves its taste, consistency, and durability.
The unloading of the finished product takes place via a homogenizer that performs the pump function and no additional auxiliary pump is needed. In case of strict homogenization and minimum particle size requirements, the equipped with a homogenizer with a weaker pump function but with enhanced milling and homogenization processes. The unloading of the product is then carried out in this case by means of a supplementary pump.
The device guarantees a stable high quality of finished product and batch reproducibility.
Modular design allows you to choose the optimal set of properties for each use.
The working container may be with or without a heating jacket, with thermal insulation or as a single-shell. Direct heating by steam injection into the product or heating through the jacket.

Vacuum or atmospheric design

Various forms of homogenization unit, possibility to change it when switching to another type of product.

One or two recirculation circuits (in vessel + external recirculation circuit)

Any number of supplemental funnels and units for ingredients insertion

Possibility of automatic dosing of ingredients

Optional source of heating

Different material for parts that are in contact with the product and parts that do not come into contact with the product. The basic version is AISI 304 food grade stainless steel, AISI 316L or AISI 316Ti can be used on request. Possibility of electrochemical passivation of welds.

Automatic, semi-automatic or manual control system.
Control system
Vacuum processing unit VMG S 650 NORMIT is equipped, depending on the customer's needs, with one of the three control systems. The functionality of the device remains unchanged, only monitoring and programming activities will be different. 
Variant 1. Automatic control system - monitoring of the program and its operation takes place without human intervention.

Variant 2. Semi-automatic control system - program monitored by the controller, the necessary steps performed by the operator.

Option 3. Monitoring and all necessary steps performed by the operator.
Video:
 For more information about this product or other processing plants, please contact our sales department: This email address is being protected from spambots. You need JavaScript enabled to view it.
| | | | |
| --- | --- | --- | --- |
| Type | VMG S650 | VMG S600 | VMG S300 |
| Dimensions LxWxH, mm | 2900x2200x2400 | 1227x2579x1962 | 2260x1170x1965 |