Universal disperser
NORMIT DISPERSER/ AGITADORES

Universal dissolver (disperser) can be used with a high speed stirrer, with a slow speed stirrer also homogenizer or  pump.

Processes

Constant stirring

in containers

Homogenization

Pumping

Dissolves,

Deagglomerates,

Disperses,

Emulsifies
Uses

pharmaceutical industry

chemical

and

cosmetic industry

food industry
The Disperser is designed to distract, break out the dry ingredients (pigments, dyes and other materials), in liquid  to obtain a suspension, emulsions and pastes with a high degree of dispersion. The blade imparts high shear forces to the ingredients being dispersed, breaking them apart. The dissolve (disperse)r distributes the liquid to solids (dissolve). High Speed Dispersers are perfect for viscous dispersions

The system allows three process:
wetting of

solids

in a liquid

mechanical

grinding

and separation of

particle clusters

the stabilization of

newly formed

small

cells and

prevents their

re-

flocculation

(

aggregation

)

.
Process is important for the formation of a homogeneous mixture of a single structure with a stable biological activity.
Principle

To use dissolver, we have to lift him and put the container under the dissolver. The stirring unit is a on the frame of device. The mixing is carried out in a closed volume. Motor with gearbox is located centrally.

The impeller has an adjustable height. Lifting can be- pneumatic, hydraulic or electromechanical.

The two cylinders are placed in the side columns.
Controlling
Manual control is designed for simpler machines and technological equipment, which the technological process is not complicated and therefore do not need complicated programming. Simple operation using the ON / OFF.
Controlling is ensured by automatic control (PLC), which is designed for more complex machinery, equipment and production lines, where it is necessary to record the temperature, temperature sensing, signaling limit parameters, take multiple values, automatic dosing, level control, time setting, monitoring, etc. . When automatic control can copy entries to the PC, the ability to connect touchscreen or connect to ethernet.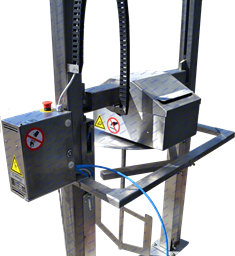 Benefits

Versatile -

suitable for a wide

range of products

,

suitable as a

device for

emptying the tanks

(thanks

submersible pump

)

Universal

device

-

use with

homogenizer

,

stirrer

,

pump

Speed stirrer- adjustable

Easy to use, easy to cleaning

Stainless steel

AISI

304

,

AISI

316




Low maintenance costs

The containers

may

be of different

size

and

design

,

can be provided with

jackets for

heating

or

refrigeration

Possibility to produce

different

versions

The possibility of producing

a high-speed

stirrer
The unit is composed from (designed for batch size from 10-500 L ( or according the customers needs)

three phases motor with PTC resistors

with a variable by driving motor on frequency conveyor, the speed of the organ is continuously adjustable

With constant power in the top range of speed and with speed - control, so that disperser is
safe against overload

For fixing on the wall.

Lifting de

vice to a

djust the mix

er disc in height infinitely by hand, with
low-friction guided tour, counterweight. In working position the unit will be fixed by looking
screw. Th

e lifting device

with adjustable security limit switch

With quick coupling for changing the organs and protection device, with
securi

ty limit switch.

With clamping device to fix the vessel, with manual operation by hand wheel and safety
switch
Options

Design

to work with

vacuum

Monitoring

temperature

Frequency converter

and automatic

speed control
Dimensions and technical parameters

Volume of vessel *
10-500
Stirrer material
AISI 316
Material - other parts
AISI 304

Mixer

speed

, rev /

min

(

adjustable

)

0

÷

100

Performance gear product

0.25

kW

÷

7.5
 *vessel not inluded