DISPENSER, FILLING MACHINE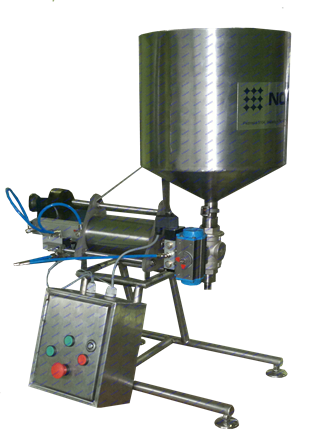 Filler (dispenser) is used for filling and dispensing creams, jams, fruit fillings, coatings, nectars, juice, mustard, gels, facial masks, waxes, adhesives, grease, sealers, mayonnaise, syrups, honey, butter, jelly, sauces , ketchup, paste, shampoo, soap, alcohol, chemicals, cosmetics, beverages, pastes and etc.

It can be also used optionally for filling of high-density products such as: potato salad, pastes, and etc
It is suitable for pumping cold and hot products.
The speed and performance of dosing can be adjusted. Filling accuracy is very high.
.Control of the bottles - if  bottle occured,  dispenser will automatically stop.

It can be used for different volumes, different products and packaging (cups, bottles, cups, ...).

 It is made of stainless steel, so that we achieve the highest quality and hygiene. Based on the potentiometer reduces the loss can decline up to 0.5%.

Proccess

Filling of the product


Dosing of the product
Advantages/ Benefits

 

L

ow noise

 Easy to clean

Very

low rotation speed

 

Ease Installation

High

performance

 
H

igh reliability

Extreme

accuracy

Universal use

s
Long life durability


Setting of dosing

Not

dripping

Adjustable

dosing

speed

A

djustable

filling speed

High precision

of

filling

Can function as a

pump

-

dispenser

Can draw

also a

substance , which contain

pieces

Low cost operation

Suitable for

sparse

and

dense

products

Suitable

for cold

and

hot

products

Different

capacity of

hopper

Suits

the

GMP

H

igh security
Principle: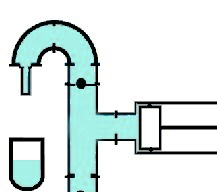 Piston filling machine- may be powered  pneumatic piston or hydraulic piston.

Piston filling machine work on the principle thrust piston back into the bottle, the product is drawn from the supply tank to the hopper. Reverse valve then changes position so piston, which is placed downward, the product is removed from the space of piston into the container via a fill nozzle. The volume of the product is determined by the size of piston cylinder. This method is very accuratable. Piston filling machine can be with check valve or a rotary valve.


Check valve - piston filling machine works on the principle of non-return valve which only allows flow in  one direction. The great advantage is that the check valve itself can draw product directly from a drum or other container. Check valve uses a system that opens and closes the throat.

 Rotating valves are used for dosing very dense substances (pasta, butter, cottage cheese, ...).
The rotary valve is connected between the container and hopper. The rotary valve features  is a large throat for allowing the passage of the product particles. Delivery is supplied from the hopper and through the wide throat, the product does not infringe.
Piston filling machine can be used up to sparse to very dense products. Amount of the product is adjusted simply by adjusting the length of the piston stroke. Settings are done by rotating adjuster wheel by a small level.
The volume of discharged level is reduced due to  the lifting height. When there is the extension of piston stroke greater delivery of product.occurs.

Steering

Manual control is used for simpler machines and technological equipment, which the technological process is complex and therefore do not require complicated programming. Simple operation using the ON / OFF button.
 Types
Single head pistol filler

Electric

or pneumatic power

with

footswitch

Stainless


Various

capacity of

hopper

Pneumatic

controlled

rotary valve or ball check valve

Automation

2 head piston fillers
Contains 2

heads

Simple

and lightweight design

,

which makes filler

possible

move

easily

to another location

Used

in the pharmaceutical

,

chemical and food industries

Stainless
Speed and volume adjustable

High accuracy
4 head piston fillers
low cost

on

4

heads

Connects

two

standard

systems

with two

h

eads

with prolonged

nozzle

Used

in the pharmaceutical

,

chemical and food industries

Stainless
Speed and volume adjustable
Options
Pistons

made of stainless steel

Heads

:

2

,

4

,

6

,

8

,

10

Inline

/

round

dispenser

Hopper

with lid

J

ets

Stirrer

Heating

Heated

funnel

Heated

valves

Teflon

part

Valves are

also

made

of

stainless steel

,

having

high mechanical

and

corrosion

resistan

ce

to

wear

Frequency converter
Semi-automatic

/

automatic

Automatic

rotary table

-

increases the efficiency of

implementation

.

Speed is

adjustable

.
We know the different types of dispensers and fillers:
Piston

-

filling machine

with

1

,

2

,

4

,

6

,

8

,

...

filling

heads

Piston

-

check valve

al

.

rotary valve

Metering Pumps

Solids dispenser


Rotary

liquid

filling machine

Gravity systems




Pressure

filling machine

Volumetric

filling machine

Filling device of

type of product

,

for example

.

honey

filling machine

,

filling

tomato paste


Rotational liquid filling machine
Fully automatic rotary filling machine for liquids. Made of stainless steel. Centrifugal al. gear pump.
Dispensers of solid products
the auger/screw dispenser - for solids product and also medicines, spices, powder, milk powder, sugar, coffee, tea, seeds, granules etc.
Easy to clean




Simple design

High speed

High accuracy
 Gravity systems This type ( same principle like hoppers) is installed above the filling head, where sre  the solenoid valves for opening and closing. The volume is determined by the timer. Lower accuracy.

Volume filler - for fine powders - powder, flour. Auger filling machine - faster and easier
Pressure - Pressure filling machines are the most popular. They are economical, accurate, filling fluid level - equally to all cylinders. Automatic / semi-automatic Heads 2-14 (depending on the size of the bottle).
Honey filling machine is used to fill the honey. Honey filling machine is designed to meet the honey. High accuracy. Made of stainless steel. It is used in the food industry. Ensures comfortable and professional processing of honey. Filtering. Multifunction Device: dosage, creaming and drawing honey.

Technical parameters:
Model
Normit D1
Normit D2
Normit D3
Normit D4

Pressure

,

Mpa

0,4-0,6
0,4-0,6
0,4-0,6
0,4-0,6
Speed ks/min
8-14
10-15
20-25
16-28
Filling range
5-5000
5-5000
5-5000
5-5000
Accurancy
-+1
-+1
-+1
-+1
Model
Normit D5
Normit D6
Normit D7
Normit D8
Pressure, Mpa
0,4-0,6
0,4-0,6
0,4-0,6
0,4-0,6
Speed ks/min
20-30
40-60
60-100
100-200
Filling range
5-5000
5-5000
5-5000
5-5000
Accurancy
-+1
-+1
-+1
-+1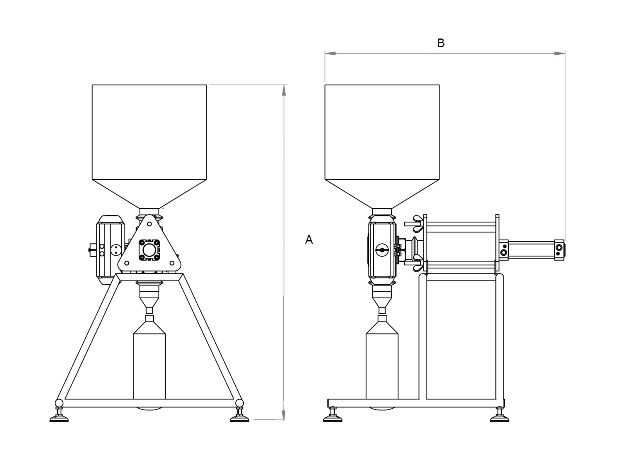 Dimensions

| | | | | | | | | |
| --- | --- | --- | --- | --- | --- | --- | --- | --- |
| Model | D1 | D2 | D3 | D4 | D5 | D6 | D7 | D8 |
| A | 737 | 737 | 1016 | 1270 | 1422 | 1676 | 2000 | 2250 |
| B | 406 | 406 | 1219 | 1016 | 737 | 1016 | 900 | 1000 |