Cooking kettle with mixer VKE 300
Model: VKE 300
Cooking kettle with mixer VKE 300 is designed for efficient mixing, heating and cooking products for the food, pharmaceutical and cosmetic industries.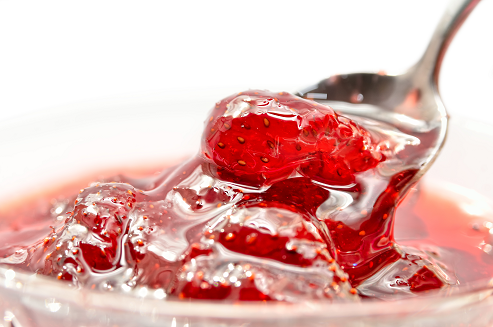 Suitable products:
Jams
Conserves
Marmelade
Sirups
Fruit juices
Soups
Sauces
Design
Jacketed kettle with stirrer with electric heater belongs to the food cooking equipment with minimal heat losses and maximum preservation of the beneficial substances and vitamins of the processed product under atmospheric pressure. The cooking kettle is equipped with a special frame stirrer, which allows processing of products with low or medium degree of viscosity. It consists of a working container placed on a support structure with an internal heating jacket with electrical spirals, an external thermal insulation jacket, a built-in slow-motion motor-driven frame stirrer, a loading lid and a processing control, and a control panel.
It is made of high quality stainless steel AISI 304 and has a double-jacket construction with insulation, arched bottom and flat lid 1/3 openable. The heating is electric and it is provided by electric spirals that heat the liquid in the jacket.
How it works:
A temperature sensor is placed in the Cooking kettle with mixer VKE 300 that gives the signal to a digital microcontroller that regulates heating. Part of this is a special frame mixer that thoroughly mixes the entire contents of the cooker. Optionally, the stirrer may be equipped with teflon slides which effectively wipes the product from the walls of the container to prevent the product from adhering to the container wall and subsequent burning, and also making the cleaning of the device more efficient. The unit includes an electric control cabinet with push button control.
Dimensions:
A: length, mm 1 307
B: width, mm     882
C: height, mm 1 355