Jacketed kettle with agitator - NORMIT
Models: UniCook E 250, UniCook S 1 000
Jacketed kettle with agitator - NORMIT, model UniCook E, UniCook S is intended for the cooking at the atmospheric pressure a wide range of liquid and pasty products with low moderate viscosity including solids.
Suitable products:
Jams, preserves and marmalades

Soups and semi-finished products

Meat sauces, dressings, dips

and similar
If you need to cook your product at low temperatures, for better preservation of the appearance and nutritional properties of the product, as well as possible introducing of heat sensitive components, we recommend the use of the universal cooker UniCook.
The design of jacketed kettle with agitator UniCook cooker consists of a thermally insulated cylindrical tank, heating system, and low-speed frame agitator (with or without Teflon scrapers). The lid opens at 1/3 for convenient loading of ingredients. The control system in the basic version switches an agitator on and off, and performs digital temperature control.
Ongoing processes:
Uniform and rapid heating under strict temperature control. The highly efficient heat distribution system heats the product quickly and with minimal inertia, which can significantly reduce energy consumption.
Thorough mixing, for rapid achievement of homogeneous composition. The special shape of the agitator effectively distributes solid inclusions in the product, but does not damage them. Jams, sauces, soups and ready meals cooked in Jacketed kettle with agitator - NORMIT Unicook have a completely homogeneous structure and attractive appearance.
Effective dissolution of soluble sugars and other components. There is uniform distribution of even a small amount of additives.
Jacketed kettle with agitator Options:
An adjustable agitator speed

Teflon scrapers for continuous cleaning of the walls (if the product is prone to scorching)

Direct steam injection
An integrated homogenizer to prepare a homogeneous mass with a particle size of 3 microns. If it is necessary to add solid inclusions into the homogenized mass, they are loaded into the vessel after the homogenization process is completed. The product is then thoroughly mixed and discharged via a pump.
                                                                   Model: E 250
                                                                     Model: S 1 000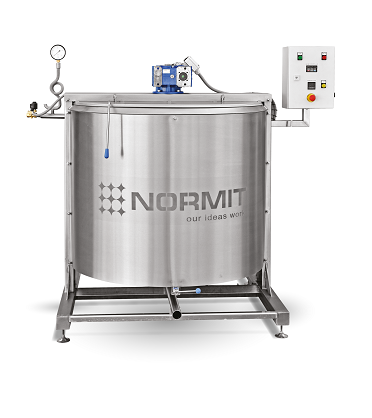 | | | |
| --- | --- | --- |
| Model: | UniCook E 250 | UniCook S 1 000 |
| Volume, L | 250 | 1 000 |
| A: lenght, mm | 1 470 | 1 600 |
| B: width, mm | 1 350 | 2 100 |
| C: height, mm | 1 502 | 1 800 |