Fruit chips production line
Model: SnackPro Line Profi
Producing of healthy snacks / dryed vegetable / dryed fruit /  vegetable chips
Suitable for frying:
apples, bananas, pineapple, strawberry, carrot, radish, sweet potato, pumpkin, garlic, onion, mushroom, winter melon, beef, boneless fish, shrimp, octopus, etc.
The line was made for the whole treatment of potato. The finished outcome are fried crisps or fries prepared for packing. It comprises of a serious of continuous machines allowing processes like: pre-cleaning, cleaning, brushing, cutting, frying.
The machinery is constructed for turning fresh vegetables into crisps or french fries. The effect of this process are healthy flavoured chips. It is achievable to treat various kinds of vegetable like potatoes, beets, carrots, parsley and others. Finished result may be flavoured with salt or spice.
Whole line includes:
The product is loaded into the washing machine mechanically, after processing (washing) the product is unloaded using a conveyor elevator.
The device is suitable for cleaning root vegetables such as carrot, beet, potatoes. The product is washed through the built-in brush.
3. Conveyor with hopper
The hoper and conveyor are made of stainless steel. The material is transported into drum washing machine.
Rotary continuous root cutting device for slices: discs/rings (chips).
5. Vacuum frying machine
Frying under vacuum (with lower temperatures) is an exceptional innovative heat treatment approach.
6. Conveyor with hopper
The hopper and conveyor are made of stainless steel. Material is then transported into drum coater.
7. Drum coater
Drum coater is suited for flavoring. Cylinder (drum) operates continuously, thereby maximizing the use of the material, while being continuously available.
Benefits:
- Vacuum fryer benefits may be divided into two kinds: commercial benefits, and quality ones.
- Enabling to produce snacks with a higher added value and low electricity expenditure plus another expenditure comparing to standard frying, giving producer a competitive advantage.
- Oil saving – the oil remains natural for long, it wont burn, it wont hold the flavor of the lastly fried material, and you dont need to replace it as often.
- Less flavour ingredients and flavor enhancers are needed.
- A competing merchandise in the snacks industry:
   • less oil (a few percentage),
   • appealing colour, almost as the original color,as the product doesnt darken or turn black,
   • preserving nutritious qualities,
   • no acrylamide or carcinogens,
   • fried vegetable snacks are highly suitable for giving to children who don't like vegetables in other forms.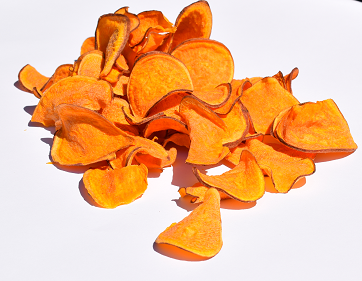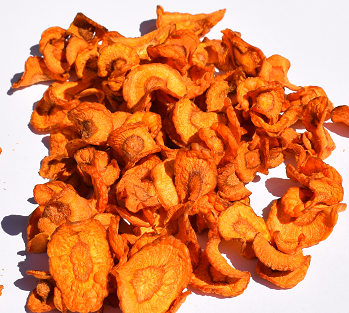 Sweet potato chips                                                                    Carrot chips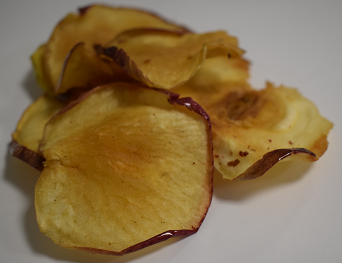 Apple chips
Vacuum processing
The efficiency of a modern thermal vacuum processing system is based on short time and low frying temperatures. This technology brings the possibility of producing a healthy product. As a result, it is a crunchy, low-fat product, thanks to its fast processing, which prevents unnecessary oil saturation.
The fryer is equipped with an automatic control system via the PLC controller.
The operator and control system has two adjustment modes: automatic and manual.