Filling machine TDF / Filling equipment
Ensuring uniform supply of the product to the packaging and maintaining it in a fluid state is ensured by continuous circulation of the product into the container through the pipeline.
If necessary, possible installation in the pipeline filtration systems.
Benefits and specifications
Reliable reinforced design
Ability to fill barrels of various sizes
High precision
Minimum maintenance costs
Installation is serviced by one operator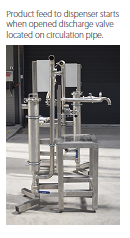 An installation for dispensing a product into a bulk container of the Normit TDF series can be equipped with
conveyors for the automatic feeding of containers for operation in automatic mode.
The installation kit includes:
Pump
Strain gauge system
Control system
For a price quote, or for a free consultation, send us an email to This email address is being protected from spambots. You need JavaScript enabled to view it.