Vacuum liquid coater / diffuser
DifuVac vacuum diffusing machine is designed for making diffusion of many different types products, low or high thickness. Vacuum liquid coating machine comprises of sealed operating tank, perforated basket, vacuum generation mechanism, operation control mechanism. Fluid supply may be done by hand prior to the vacuum pump starting or fluid may be absorbed in by vacuum if de-aeration is finished. 
For more informations contact sales department: This email address is being protected from spambots. You need JavaScript enabled to view it.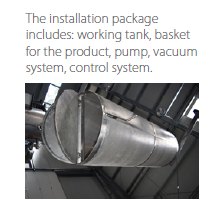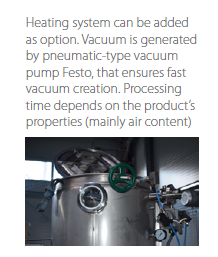 The equipment is intended for use in the food industry, chemical, pharmaceutical and many others. DifuVac ST-300 vacuum liquit coater-diffuser - refers to the equipment of periodic action: 
 on saturation with aromatic, vitamin impregnation of various products;
 the application of coating compositions, shells on a water / oil basis;
 due to the removal of air from the working tank (drazer) and the product in it, absorption / filling with various formulations (additives), which have become free in the product.